Braehead Clan slay Belfast Giants in 4-1 away win
By Craig Anderson
BBC Sport Nation
Last updated on .From the section Ice hockey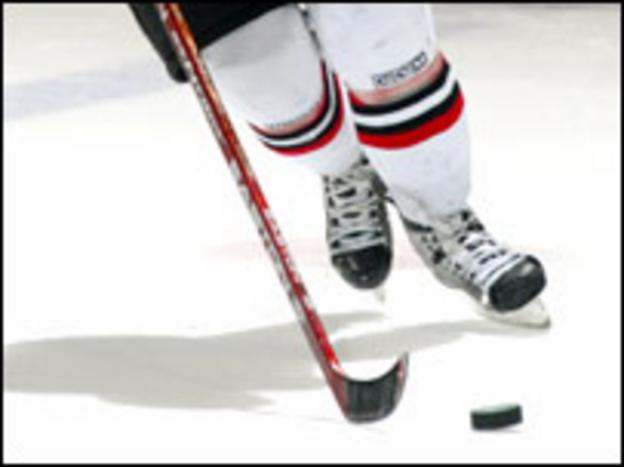 Braehead Clan finally found some Christmas cheer as they bucked their three-game losing streak to win 4-1 at Elite League leaders Belfast Giants.
Drew Bannister's men headed to Belfast seeking revenge after being hammered 7-2 at home on Boxing Day by the Giants.
Brock McPherson opened the scoring for the visitors before Ryan Campbell and a double by Mike Bayrack put the result at the Odyssey Arena beyond doubt.
Craig Peacock pulled one back for the hosts, rounding off a late rally.
Clan's player-coach Bannister set up McPherson to smash home the opening goal as the visitors began impressively.
Then Campbell was brought down as he went one-on-one with Giants goaltender Stephen Murphy, leading to referee Dean Smith awarding a penalty shot.
It was Campbell who had the privilege and he coolly beat Murphy to double Clan's advantage.
Nick Kuiper almost salvaged a goal back for the home side after a picking up a stray pass, but Clan keeper Jaakko Suomalainen was on top form to deny him.
Bayrack soon put the game beyond doubt when he finished Jade Galbraith's pass to stick the knife into his former team.
Then the Canadian again was on hand to twist it when his powerful shot, again provided by Galbraith to make it 4-0.
Peacock finished from close range then struck the post with another chance, but the Clan held out to claim a massive victory.
Braehead's bench coach Frank Morris: "Our secret was the players were quite simply up for it after such a disappointing result at home on Boxing Day.
"Offensively and defensively, we were solid and Jaakko in goal made some key saves at key moments and he can be very proud of his performance."
Scottish results and scorers
Elite Ice Hockey League
Friday 23 December
Belfast Giants 6-0Edinburgh Capitals: (Lloyd 3:37, Lloyd 25:11 PP, Keefe 28:29, Awada 29:31, Pelle 39:27, Lloyd 39:55)
Dundee Stars 4-6Nottingham Panthers: (Turner 30:41, Konkle 32:10, Konkle 48:36, Konkle 59:33); (Wilson 1:57, Myers 14:04, Beauregard 35:02, Clarke 36:59 PP, Benedict 51:11, Clarke 59:59 EN)
Monday 26 December
Braehead Clan 2-7 Belfast Giants: (Galbraith 8:57 PP, Jorgensen 35:20 PP); (Walton 7:26, Keefe 16:16, Rebek 26:18 PP, Peacock 33:33, Lloyd 37:24, Lloyd 41:21, Lloyd 50:48)
Cardiff Devils 4-1 Fife Flyers: (Birbraer 1:29, Matzka 40:30, Matzka 42:55, Smith 46:33); (Hamilton 7:42 PP)
Dundee Stars 4-2Edinburgh Capitals: (Mitchell 15:15 PP, McGoff 15:59, Mazur 23:41, Konkle 26:18); (Menton 11:01 PP, Hartmann 53:57)
Tuesday 27 December
Belfast Giants 1-4Braehead Clan: (Peacock 54:53); (McPherson 17:52, Campbell 21:05 PS, Bayrack 44:49, Bayrack 49:31)
Edinburgh Capitals 3-5 Cardiff Devils: (McKenzie 32:24, Jarolin 45:00 PP, Jarolin 46:52 PP); (Dobben 27:33, Richardson 51:24 PP, Voth 55:04, MacRae 58:39, Davies 59:12)
Fife Flyers 2-1 Dundee Stars: (Nicolson 8:07, Hamilton 17:12):(Mazur 10:53 PP)