Oxford City Stars withdraw team from ENIHL
Last updated on .From the section Ice hockey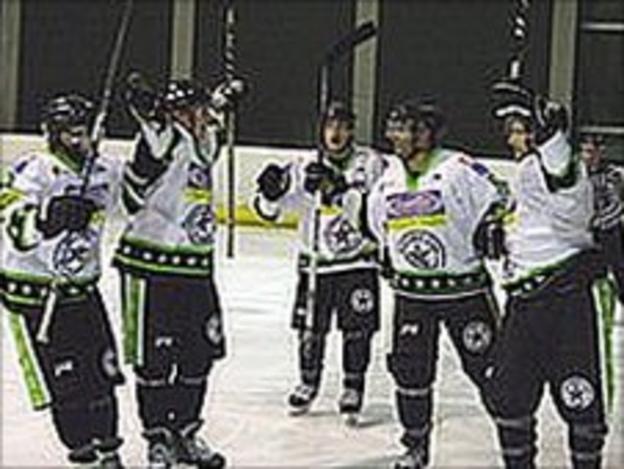 Oxford City Stars have been withdrawn from English National Ice Hockey League Division One South.
The club named a new coach on 29 December but a player exodus forced Stars directors John Harrison and Elaine Sutcliffe to pull the team out.
"Since releasing the coach eight players (five defencemen, two forwards and a netminder) notified us that they will be leaving," said a statement.
"Most of them have given their reason as the departure of the coach."
The statement added: "At this stage of the season we are unable to replace such a large number of players.
"While we could possibly bring up players from the Oxford ENL2 team we feel that would be unfair to the players, our supporters and to other teams as our team would struggle to compete and complete the season and stripping them of players would obviously have a knock-on effect to that ENL2 team.
"It is with regret that we, the directors of Oxford City Stars, have to announce the immediate withdrawal of our team from the English National Ice Hockey League Division One South."
Sutcliffe says in hindsight they may have acted differently but vowed to bring ENL1 hockey back to Oxford for the 2012/13 season.
"A series of events led to the decision and in hindsight we might have acted differently," Sutcliffe told BBC Radio Oxford.
"I would hope a lot of the resources that have now been freed will go into the ENL2 team and a lot of the supporters will go and watch the ENL2 team.
"I don't think the standard of ice hockey has dropped in Oxford and I would encourage people to go and watch the ENL2 team for themselves.
"I would say that it is the full intention of anyone involved with hockey in Oxford that the city will have a senior side in the National League level one in probably the 2012/13 season."
Sutcliffe added: "There has been a problem at Oxford for a while and a lack of resources and we have had to rely on players who are not necessarily from Oxford or 100% committed to Oxford.
"Oxford should always be about bringing players up through the junior team and into senior hockey."