Braehead Clan beat Nottingham Panthers in 6-3 win
By Craig Anderson
BBC Sport Nation
Last updated on .From the section Ice hockey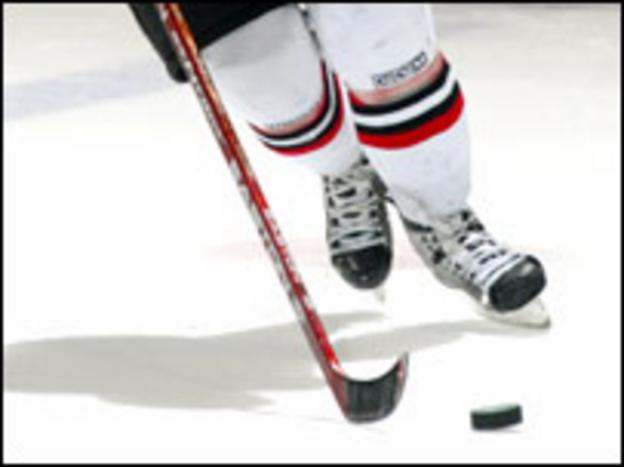 Doubles from Jim Jorgensen and Brock McPherson gave Braehead Clan the perfect start to 2012 as they demolished Nottingham Panthers to notch up their third win in a row.
Matt Haywood got the home side off to a terrific start by bundling in Tim Wedderburn's initial shot then McPherson scored his first with a rebound shortly after.
A skirmish between McPherson and Panthers' player-coach Corey Neilson set the tone for a slightly bad-tempered fare for the rest of the match as both received five minute penalties.
Jorgensen registered his first of the night when he tapped in Mike Bayrack's pass then added his second - and his fourth goal in two games - by slamming past Panthers' goalie Craig Kowalski.
Jade Galbraith's devastating skate down the right played in Jordan Krestanovich to make the lead a commanding 5-0 scoreline, before Robert Lachowicz swept one in to reply.
The Panthers looked like making a comeback early in the second period when scorer Lachowicz set up Matthew Myers, who blasted the puck past Braehead keeper Jaakko Suomalainen.
But a well-worked move around the Nottingham goal finally got the rewards as Brock McPherson finished to kill off any late resurgence by the Panthers and soon it was 6-2.
A late finish by David Clarke with eight minutes to go in the final period had little effect on the final outcome as the Clan ran out comfortable winners in the end.
Afterwards Clan netminder Jaakko Suomalainen said: "The result is very big for us at this point and gives us self confidence for the Challenge Cup matches with Nottingham to come.
"There are a lot of guys playing well in our team at the moment who are scoring goals and it's important we continue this form against Hull on Saturday."
Scottish results and scorers
Elite Ice Hockey League
Friday 30 DecemberBraehead Clan 5-4 Dundee Stars: (McPherson 23:38, Galbraith 25:50 PP, Jorgensen 44:20 PP, Campbell 54:06 PP, Jorgensen 56:49 PP); (Mitchell 12:18, Konkle 13:04, Mazur 48:05, Wishart 57:08)
Saturday 31 DecemberEdinburgh Capitals 4-5 ASO Fife Flyers: (Jarolin 13:47 PP, Hartmann 43:43, Zembergs 49:32 PP, Jarolin 53:54); (Hamilton 5:49, Hamilton 26:52, Stewart 32:51, Gunn 48:16, Hamilton SO Winner)
Monday 2 JanuaryDundee Stars 1-4 Belfast Giants: (MacLean 16:12); (Walton 37:43, Dignard 39:33, Dowd 45:39 SH, Dowd 59:27 EN)
Fife Flyers 1-4 Edinburgh Capitals: (Stewart 12:18); (Jarolin 26:37 PP, Hartmann 36:18, Hanzal 59:17 EN, Jarolin 59:47 EN)
Tuesday 3 JanuaryBraehead Clan 6-3 Nottingham Panthers: (Haywood 3:56 PP, McPherson 5:39, Jorgensen 24:19 PP, Jorgensen 31:36 PP, Krestanovich 34:15, McPherson 50:12 PP); (Lachowicz 39:06, Myers 43:39, Clarke 52:18 SH)
Dundee Stars 6-4 Fife Flyers: (Wishart 21:38 PP, MacLean 23:51, MacLean 31:15, Hughes 44:38, Hughes 48:52, Mazur 54:25); (Ceman 16:12, Ceman 19:18, Dutiaume 23:21 PP, Ceman 50:08 PP)