Edinburgh Capitals lose 3-4 to Sheffield Steelers
By Craig Anderson
BBC Sport Nation
Last updated on .From the section Ice hockey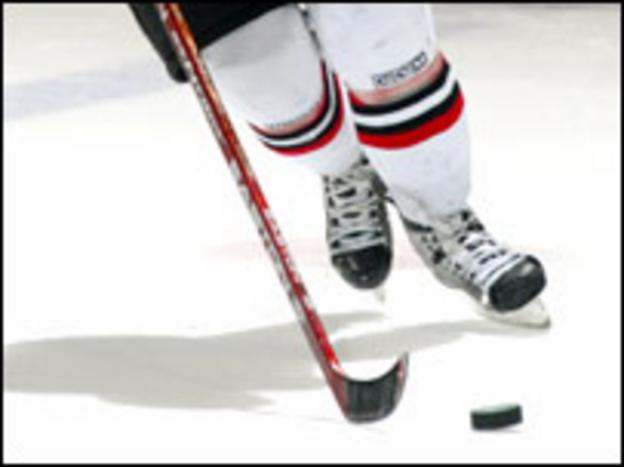 Three quick-fire third period strikes by Sheffield Steelers put paid to any hopes Edinburgh Capitals had of a dream win in this closely-fought contest.
The Caps defended well in the face of some fierce pressure from the Elite League champions, but the quality of Ryan Finnerty's side was enough to clinch them the points.
Lee Esders opened the scoring with a powerful shot - a rebound from Ashley Tait's original effort - that beat Nathan Craze in the Edinburgh goal.
Despite pressing, the Steelers seemed unable to take their scoring on with Craze and his defence in almost unbeatable form. And, when the Caps scored, it was against the run of play.
Jozef Sladok's attempt was blocked, but found Rene Jarolin, who poked it beyond John Decaro in Sheffield's goal for the leveller.
Then Jarolin added a second for the hosts in the third period, slotting home a terrific shot set up by Edinburgh's new boy Iain Bowie.
This fired the Steelers up however, and they were soon levelm, with Jono Phillips squeezing the puck under Craze before Steven Birnstill firied home a pass from Jeff Legue.
Colt King soon opened up a two-goal lead, leaving the Caps shattered and, although Marcis Zembergs netted a late consolation, it was a sad end to a good performance.
Afterwards Caps player-coach Richard Hartmann said: "We played for 50 minutes and in the other 10 minutes, we let them score. We have to play for the full 60 against the better teams.
"There are still parts of our game still to develop, as well as confidence, as we're not experienced enough and that maybe leads to stupid things. We have to do the easy things."
Iain Bowie, back at the Caps after leaving Fife Flyers during the week said: "I was really happy to get an assist, but I think we got tired and made mistakes. We should have got the win."
Scottish results and scorers
Elite Ice Hockey League
Saturday 7 January: Belfast Giants 6-2 Dundee Stars: (Rebek 3:08 PP, Peacock 14:22, Walton 28:58, Dowd 32:57, Lloyd 48:01, Mason 57:18); (Hutchins 31:49 PP)
Braehead Clan 3-1 Hull Stingrays: (Walker 1:53, Krestanovich 6:54, Krestanovich 48:11); (Campbell 10:46)
Fife Flyers 1-2 Sheffield Steelers: (Gunn 56:30); (Legue 5:42, Legue 37:59 PP)
Sunday 8 January:Dundee Stars 0-3 Coventry Blaze: (Weaver 37:55 PP, Fussey 53:07, Farmer 59:09)
Edinburgh Capitals 3-4 Sheffield Steelers: (Jarolin 37:52, Jarolin 44:18, Zembergs 59:47 PP); (Esders 12:44, Phillips 46:57 PP, Birnstill 48:24, King 48:43)
Hull Stingrays 4-7 Braehead Clan: (Rodin 8:25, Silverthorn 9:56 SH, Davies 22:19, Watkins 44:40 PP); (Krestanovich 7:52, McPherson 21:01 PP, McPherson 24:52, Galbraith 26:34 PP, McPherson 41:34 PP, McPherson 46:07, Walker 53:16)