Ice hockey's secret agents
By Craig Anderson
BBC Sport Nation
Last updated on .From the section Ice hockey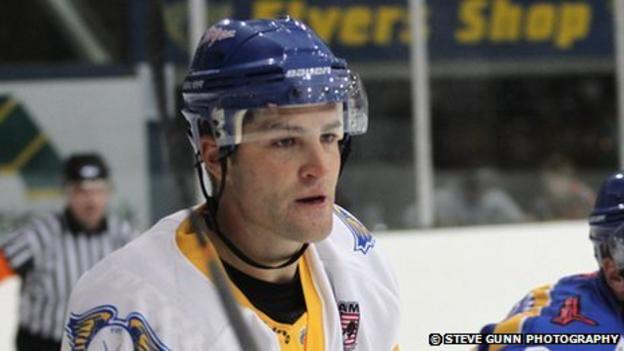 When deals are done in any sport, the press conferences will show you the new arrival flanked with their new team's manager and a club shirt.
They never show you arguably the real grafters in the background, namely the agents.
In football, most stories involving transfers always refer to a player's agent who's working furiously behind the scenes to get the most money and the best deal for their man.
Ice Hockey is exactly the same and while the sport in this country doesn't carry the same level of media coverage, rest assured the agents are kept well busy.
But their profession was called into question last week when Fife Flyers player-coach Todd Dutiaume accused one of helping to lure Matt Siddall away from Kirkcaldy to Croatia.
Angry Dutiaume told Fife Today: "In this day and age, it seems like agents can be chancing their luck, contacting guys through Facebook, but before these channels weren't there.
"It's disappointing that we've got a guy under contract and other teams start approaching. If a guy signs a contract you think other teams would leave him alone."
If what Dutiaume is alleging is true, then Siddall won't be the only one to have been lured from one team and transferred to another in those circumstances.
Gareth Chalmers, CEO of 9 Management, revealed that the players are not entirely blameless when it comes to manufacturing moves.
He said: "Agents as a whole get a bad reputation when this kind of thing goes on and it's the players who have maybe contacted someone to assist in getting a move away.
"But it works both ways and clubs will contact guys in my profession looking to obtain a player under contract elsewhere and try and unsettle them.
"We get the finger of blame a lot in these situations, but the truth is it happens from both sides and that's what happened in the case of Matt Siddall.
"I knew about the deal a couple of days before it happened and to be fair to him, he got himself a good deal in moving to Croatia, where the standard of hockey is better as well.
"He decided he wanted to leave Fife and got himself in touch with the agent who sorted him out. I really don't think you can blame him for going."
It was also interesting to discover that players that choose to leave the Elite League seem to be able to do so much easier than if they were under contract elsewhere in Europe.
So it was very surprising when Gareth revealed just how contracts work for players signed up to the league in this country.
He revealed: "What people don't know is, in every Elite League player's contract there's a two week release clause in every deal, which was agreed by every club on the league's formation.
"Most of the other leagues in Europe have buy-out clauses in their deals, so if a player leaves two months into an eight month deal, his new club must pay up the remaining six months.
"So for Matt Siddall to leave Fife, there would have had to have been a negotiation for flight costs and ITC (International Transfer Card) costs, which relates to his registration.
"So I'm sure Fife would have been compensated in the end by Medvescak Zagreb in Siddall's move."
Despite all this, Gareth insists agents are nothing more than a form of lawyer in sport if there is an issue with pay
He added: "The role of an agent is to help in negotiating contracts and it's usually players that will contact us as we know the market better and we know what clubs can and cannot afford.
"Other than that, the real time an agent is called upon is if the club suffers monetary problems or there's a contract dispute. In a manner of speaking, it is like having a lawyer.
"An agent is more for coverage now for contract issues, more so now due to the advent of Facebook, Twitter and even emails to an extent.
"We are seen as a necessary evil from both sides as clubs are suspicious and players tend to be cautious because they think it will cost them money.
"I admit there are bad agents out there who certainly don't help our reputation among sport in general, but I'm always fighting against that to maintain good relationships.
"It's stating the obvious, but that's important to me and how I do business."