Nottingham Panthers book place in Challenge Cup final
Last updated on .From the section Ice hockey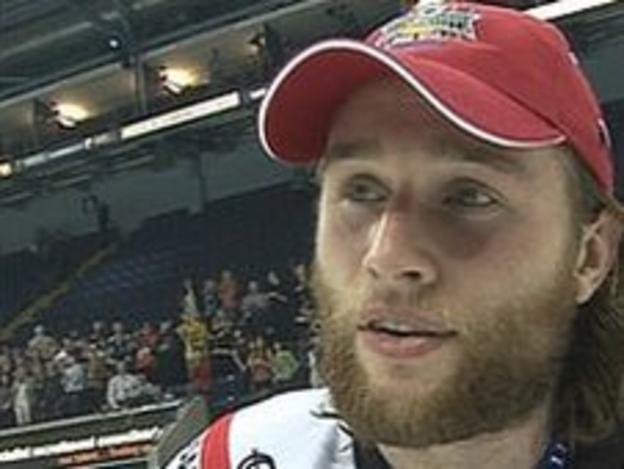 Nottingham Panthers captain Danny Meyers says his side's puck movement was key as they beat Braehead to reach the Challenge Cup final.
After losing 3-2 in Scotland on Saturday, in a game which doubled up as a league game, Panthers won 3-0 on Sunday to go through 5-3 on aggregate.
Meyers told BBC Radio Nottingham: "We moved the puck a lot quicker on Sunday, as on Saturday we were static at times.
"I feel like our biggest strength was our speed."
After falling behind on Saturday to a goal from former Panther Jade Galbraith in the first period, Nottingham hit back with two early goals in the third session through David Clarke and Matt Francis.
But Drew Bannister and Brock McPherson scored just under three minutes apart to give the Clan the points in the league and a one-goal advantage in the cup tie.
Two early goals at the National Ice Centre on Sunday from Jordan Fox put Panthers ahead on aggregate, while Brandon Benedict scored short-handed on the breakaway in the second period.
The two-legged victory puts Panthers in the final of the trophy they have won for three of the last four years, including 2010 and 2011.
"It was great to get those two early goals as we seem to have struggled against this goalie in the last few games," added Meyers.
"It was a good performance. We played OK on Saturday night but they played very well and that was obviously the difference."
Panthers will have to wait until the start of February to find out whether they will meet Belfast Giants or Cardiff Devils in the final.