Edinburgh Capitals lose to Hull Stingrays in the Elite League
By Craig Anderson
BBC Sport Nation
Last updated on .From the section Ice hockey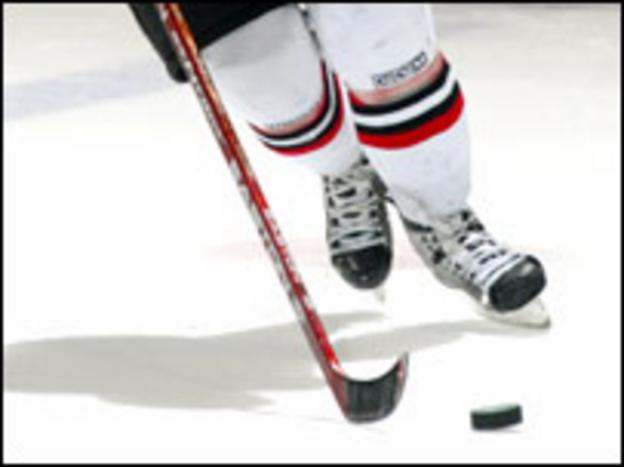 Edinburgh Capitals' wretched run was stretched to one win in 13 matches after three late goals by Hull Stingrays left them stunned.
The Caps looked good in the first period, with the best chance coming from Marcis Zembergs, denied from point-blank range by Christian Boucher in the Rays net.
But their profligacy was to be their undoing as Dominic Osman found a space to place the puck from Martin Ondrej's pass seconds into the middle period.
The Stingrays were still reeling from their 5-2 loss at home to Dundee on Saturday and needed a win to catch the Caps, just ahead of them in seventh place.
So, when Andrew McKinney broke into the Edinburgh zone to send the puck past Caps netminder Nathan Craze with eight minutes to go, it seemed a good night's work.
Bari McKenzie's shot shortly after was not properly dealt with by Boucher, with Rene Jarolin following in to pull one back for the home side.
But their joy was short-lived when Jereme Tendler broke free, going one-on-one with Craze and outwitting the Edinburgh goalie to restore the two-goal lead on 58:55.
Then, 15 seconds later, Tendler added further misery, sweeping the puck in from close range to clinch an arguably flattering Hull win in the dying embers.
That was despite player-coach Richard Hartmann tapping in a rebound from Rene Jarolin's initial effort to finish the scoring at 4-2.
The Caps coach said afterwards: "We just didn't play well and, although we had some good moments, we just didn't score. Hull came here and took their chances.
"At 1-0 we tried to push forward, perhaps a little too much, and we forgot the back door, which allowed them in. When we get guys back from injury we will be better."
Scottish results and scorers
Elite Ice Hockey League
Friday 20 January:
Belfast Giants 6-2 Edinburgh Capitals: (Mason 4:37, Garside 23:05, Lloyd 24:30 PP, Clarke 26:50, Dowd 52:28, Dowd 57:12 PP); (Jarolin 10:50, Bowie 53:52)
Saturday 21 January:
Braehead Clan 2-3 Cardiff Devils: (Galbraith 1:21 PP, Krestanovich 55:00); (Hill 38:37 PP, Davies 49:23, Hill 55:27)
Fife Flyers 3-2ASO Coventry Blaze: (Hartmanis 33:44, Stewart 57:40, Kadic Winning PS); (MacRae 15:07, Matzka 25:05 SH, Dobben 58:50 EN)
Hull Stingrays 2-5 Dundee Stars: (Cloutier 26:49 PP, Silverthorn 43:15); (Kolanos 35:35, Turner 42:02, Hutchins 44:04, Hutchins 50:27, Dolan 59:28 EN)
Sunday 22 January:
Coventry Blaze 6-2 Braehead Clan: (Farmer 11:55 PP, Wood 18:24, Wood 23:07 PP, Kralj 27:19, Farmer 28:01, Kralj 57:28); (Krestanovich 15:38 PP, Jorgensen 59:35 SH)
Dundee Stars 3-4ASO Sheffield Steelers: (Hutchins 5:29 PP, MacLean 25:03, Mitchell 35:41 PP); (Phillips 7:22, Finnerty 13:13 PP, Finnerty 57:05, Legue Winning PS)
Edinburgh Capitals 2-4 Hull Stingrays: (Jarolin 45:34 PP, Hartmann 59:34); (Osman 20:56 PP, McKinney 52:13, Tendler 58:55, Tendler 59:10)
Nottingham Panthers 4-1 Fife Flyers: (Beauregard 19:12 PP, Ryhanan 37:14, Fox 41:38, Benedict 49:48 PP); (Bakrlik 48:41 PP)