Dundee Stars lose to Fife Flyers in the Elite League
By Craig Anderson
BBC Sport Nation
Last updated on .From the section Ice hockey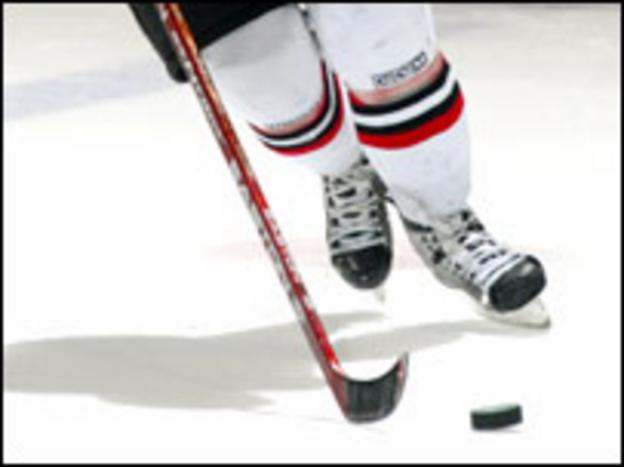 Fife Flyers showed further sign of improvement as they leapfrogged local rivals Dundee Stars into ninth place following their 4-1 victory.
There will be some soul searching on Tayside as Brent Hughes' side plunged to the foot of the Elite League table, but they performed well.
Two breakaways led to the Flyers' first two goals in the opening period, with Denis Kadic setting up Frankie Bakrlik for the breakthrough as he flicked it past Dundee keeper Chris Whitley.
Then an identical move saw Toms Hartmanis on the right find Danny Stewart arriving late at the back post and he first-timed it home.
The home side got one back at the end of the first period as Brennan Turner prodded in from close range to narrow the gap to one.
It is fair to say the Stars had the better of the middle period with a plethora of chances but found Flyers keeper Garrett Zemlak in top form.
However, Fife got the sucker punch when Hartmanis, from behind the goal, fed Matt Cohen, who swept it in from close range at Whitley's near post.
Then Andy Samuel first-timed into the net to finish a fabulous one-touch move involving Steven Gunn and Jamie Wilson as the visitors sealed a massive two points.
Jubilant Fife coach Todd Dutiaume: "We've played some great stuff since Christmas and haven't got the rewards, but I felt we got what we deserved."
Stars coach Brent Hughes: "I'm definitely frustrated after that, but I don't think it's down to a lack of effort from my guys.
"We controlled much of the game but didn't capitalise."
Scottish results and scorers
Elite Ice Hockey League
Friday 27 January:
Braehead Clan 2-3 ASO Belfast Giants: (Bannister 28:50 PP Wirll 45:46); (Clarke 23:04, Deniset 48:00, Dowd Winning PS)
Saturday 28 January:
Braehead Clan 5-4 Dundee Stars: (McPherson 1:23, Bayrack 8:57, Jorgensen 19:24, Bayrack 21:47, Bayrack 35:48); (Kolanos 5:19, Hutchins 12:03 PP, Konkle 48:54, MacLean 59:55)
Edinburgh Capitals 2-4 Sheffield Steelers: (Zembergs 32:28, Zembergs 57:04); (Ramsay 14:48, Hewitt 18:39, Phillips 33:08, King 34:50)
Fife Flyers 0-3 Belfast Giants: (Awada 44:17, Clarke 51:21, Dowd 59:55 EN)
Sunday 29 January:
Dundee Stars 1-4 Fife Flyers: (Turner 19:53 PP); (Bakrlik 10:04, Stewart 11:23 SH, Cohen 43:36, Samuel 51:53)
Edinburgh Capitals 3-6 Sheffield Steelers: (Jarolin 15:15 PP, Holecko 32:37, Hartmann 52:43); (Tait 1:08, Birnstill 7:55, Birnstill 22:44 PP, Birnstill 49:08, Stephenson 53:25, Stephenson 55:26 PP)