Braehead Clan beat Cardiff Devils in the Elite League
By Craig Anderson
BBC Sport Nation
Last updated on .From the section Ice hockey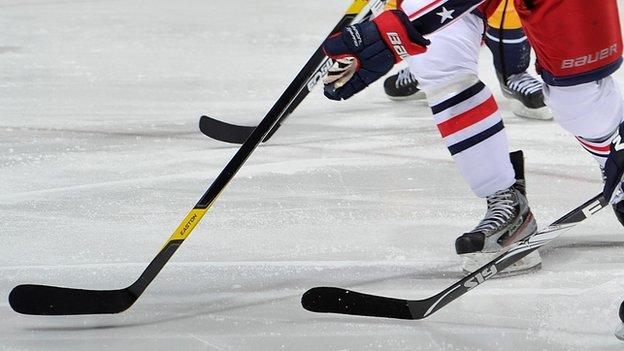 Jade Galbraith's one-man crusade proved the difference for Braehead Clan as his penalty shot sealed a huge two points on the road.
But Drew Bannister's side nearly spectacularly shot themselves in the foot by turning a 3-0 lead into a 4-3 defeat until Galbraith scored a late leveller to take the game past 60 minutes.
It was topsy turvy for the 1,444 fans that arrived for the match and the Cardiff contingent would not have been happy at the first-period display.
The home side started the stronger but it was Bannister who put his team ahead, taking Galbraith's pass and firing past Stevie Lyle in the Devils' goal from an acute angle.
Then, Jordan Krestanovich and Galbraith combined for two late Clan goals in the first period, with the former setting up the latter on both occasions to open a three-goal lead.
Inevitably, the home side hit back and Jeff Pierce got the comeback underway, before Devils player-coach Gerad Adams started making things nervy with a second strike early in the third.
Pierce popped up to level, firing home from the right hand side, before Scott Dobben put the Welsh side in front, finishing Tim Burrows' pass from close range to put them 4-3 up.
But Clan were not done yet and Galbraith sealed his treble, diverting Lee Mitchell's pass beyond Lyle and into the net, forcing the game into overtime.
The teams still couldn't be separated so it was down to the lottery of penalty shots, and it was Galbraith's second one that finally sealed the win for the Scots.
Braehead Clan player/manager Drew Bannister: "Jade just keeps clicking along and keeps getting big goals and earning points for us.
"He's a wonderful addition to the team and is a leader on and off the ice and proved that again with another great display. I have nothing to say but good things about him."
Scottish results and scorers
Elite Ice Hockey League
Saturday 4 February:
Coventry Blaze 5-1 Fife Flyers: (Cowley 18:00, Weaver 33:03 PP, Owen 41:59, Fussey 48:02, Fussey 52:31 PP); (Hartmanis 7:29)
Nottingham Panthers 6-2 Dundee Stars: (Fox 3:12, Clarke 9:39, Francis 19:35 SH, Lepine 31:27, Clarke 52:56, Clarke 57:36 PP); (Konkle 14:49 PP, Dolan 47:07)
Sunday 5 February:
Cardiff Devils 4-5 ASO Braehead Clan: (Pierce 26:07, Adams 42:48, Pierce 45:09, Dobben 48:43); (Bannister 9:01, Galbraith 17:48, Galbraith 18:31, Galbraith 59:29, Galbraith Winning PS)
Dundee Stars 6-2 Fife Flyers: (MacLean 0:15, Konkle 0:56, Kolanos 25:38, Hughes 27:33, McIntosh 37:49, Hughes 57:30); (Ceman 6:47 PP, Ceman 10:52 PP)
Edinburgh Capitals P-P Nottingham Panthers: