Braehead Clan beat Fife Flyers in the Elite League
By Craig Anderson
BBC Sport Nation
Last updated on .From the section Ice hockey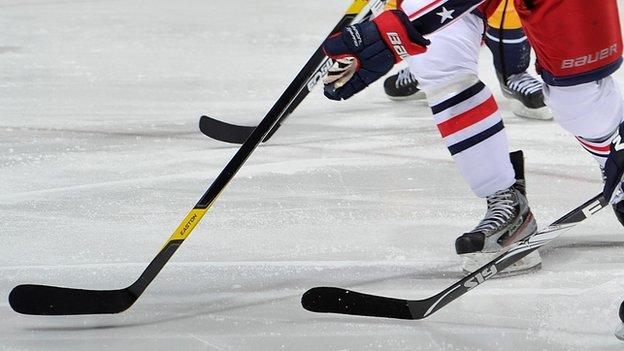 Fife Flyers' hopes of a play-off spot took a dent as they were outclassed by Braehead Clan in another Scottish derby over the weekend.
Just when it looked as though things were starting to look up for the Kirkcaldy side, they suffered back-to-back losses to Belfast and Dundee last week.
The latest defeat really has dampened, but not killed off, any hope of reaching the last eight by the season's end.
Drew Bannister smashed in from halfway inside the Fife zone to begin the rout despite Flyers looking solid at times in defence.
But it became unravelled in the middle period when Brock McPherson flicked in a second followed swiftly Jade Galbraith adding a third.
Ryan Campbell made it 4-0 on the half hour, but Toms Hartmanis offered solace for the home fans when his smashed drive beat Jaakko Suomalainen at his stick side.
Hopes of a comeback didn't last long as Lee Mitchell set up Galbraith on the breakaway and the Clan favourite scored his 25th goal of the season, before Walker added the sixth.
Tim Maxwell pulled another back for the home side, however Jordan Krestanovich had the last word with Clan's seventh.
Flyers' player-coach Todd Dutiaume: "I genuinely believed the guys were going to show up and play. It was basic mistakes made caused by weak plays that cost us.
"Weak performances from the Brits, whom we rely on heavily, we get absolutely nothing in offence from the imports equals a heavy loss from the Flyers."
Braehead's coach Drew Bannister: "It was a very good performance, although I wouldn't say the best in a while, but it's certainly up there.
"The guys played really well and I felt we controlled them from start to finish. Offensively we were very good and we could have won 14-2 if we took more chances."
Scottish results and scorers
Elite Ice Hockey League
Saturday 11 February:
Cardiff Devils 5-2 Edinburgh Capitals: (Hill 12:27, Macrae 25:44, Macrae 31:25 PP, Pierce 50:21 PP, Hill 54:57); (Jarolin 14:52, Jarolin 34:23 PP)
Dundee Stars 3-4 Hull Stingrays: (Forsyth 6:21, McGoff 27:11, MacLean 57:49 PP); (Osman 15:51, Campbell 27:56, Osman 53:11, Silverthorn 54:00 SH)
Fife Flyers 2-7 Braehead Clan: (Hartmanis 39:08 PP, Maxwell 50:48); (Bannister 7:38 PP, McPherson 22:40, Galbraith 26:15 PP, Campbell 30:41, Galbraith 41:18, Walker 49:18, Krestanovich 53:10)
Sunday 12 February:
Edinburgh Capitals 2-3 Cardiff Devils: (Jarolin 19:11, Zembergs 31:27); (Pierce 2:59, Frank 7:04, Vanderveeken 22:11)
Hull Stingrays 3-2ASO Dundee Stars: (Scott 0:30, Rodin 54:33 PP, Osman (Winning PS); (Hughes 2:09 PP, Kolanos 9:27)