Braehead Clan beat Coventry Blaze twice in the Elite League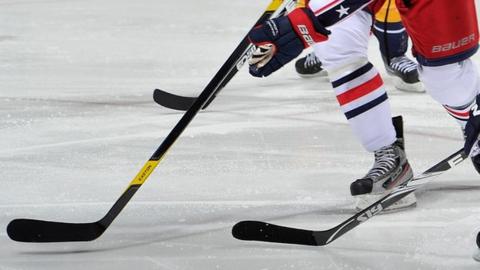 Braehead Clan stormed into the top half of the Elite League table following a weekend double over Coventry Blaze.
There were three points of a difference between the teams coming into the weekend and Jade Galbraith got the home side of to a flyer, finishing from close range.
Lee Mitchell looked as though he'd got his first goal for the club since his move from Dundee Stars, but a deflection off Galbraith took it beyond Blaze keeper Peter Hirsch for the second.
However, Paul Thompson's men mounted a comeback early in the second when Shea Guthrie tapped one in.
Then Dustin Wood's angled shot bounced off Clan netminder Jaakko Suomalainen's shoulders and dropped into the net to give the visitors parity.
Clan player-coach Drew Bannister regained the lead for his team when he lured Hirsch from the crease, took the puck around the goal and finished the wraparound.
Matt Haywood added his name to the scoresheet when Blaze's keeper was caught in no-man's land, allowing Adam Walker to take advantage and square for his team-mate to finish.
Blaze huffed and puffed in the third, but couldn't find enough to come back despite Robert Farmer adding a late consolation to reduce the arrears to one at the end.
Braehead coach Drew Bannister: "We were good in the first and third periods, but not so much in the second period, although I was pleased with the fight we showed.
"The two goals we lost in the second period were poor and we have to do better with our positioning and our battle effort."
Jade Galbraith's hat-trick at Coventry on Sunday cemented the Clan's climb to fifth place as the Purple Army notched a 6-4 win against the Blaze 24 hours later.
Lee Mitchell scored his first goal for the club while Jordan Krestanovich and Haywood added to the tally.
Coventry's consolatory goals came from Owen Fussey, Robert Farmer, Jonathan Weaver and Greg Owen as they fell to sixth in the table.
Braehead coach Drew Bannister: "The guys played really well and I felt we controlled them from start to finish. Offensively we were very good and we could have won 14-2 if we took more chances."
Scottish results and scorers
Elite Ice Hockey League
Saturday 18 February:
Belfast Giants 7-1 Fife Flyers: (Pelle 10:30 SH, Kuiper 16:17 PP, Dowd 19:15, Peacock 21:30, Clarke 40:54, Rebek 44:19 PP, Hoffmann 47:19); (Gunn 59:51 PS)
Braehead Clan 4-3 Coventry Blaze: (Galbraith 6:26, Galbraith 11:04, Bannister 31:59, Haywood 37:00); (Guthrie 23:24, Wood 27:11, Farmer 59:55)
Edinburgh Capitals 3-6 Dundee Stars: (McKenzie 16:43 PP, Jarolin 27:50 PP, McKenzie 43:22); (Konkle 19:36 PP, MacLean 22:05, Konkle 23:09, Kolanos 37:02, Dolan 40:50, Dolan 55:56 PP)
Sunday 19 February:
Coventry Blaze 4-6 Braehead Clan: (Fussey 13:46, Farmer 22:59, Weaver 37:05, Owen 45:48); (Mitchell 0:36, Krestanovich 6:52, Galbraith 30:24, Galbraith 47:36, Haywood 54:22, Galbraith 59:57 EN PP)
Edinburgh Capitals 0-9 Nottingham Panthers: (Clarke 5:19, Levers 18:33, Lachowicz 31:37, Francis 42:30, Wilson 43:09, Benedict 50:16, Myers 57:18, Francis 58:49, Beauregard 59:49)