Braehead Clan beat Edinburgh Capitals in the Elite League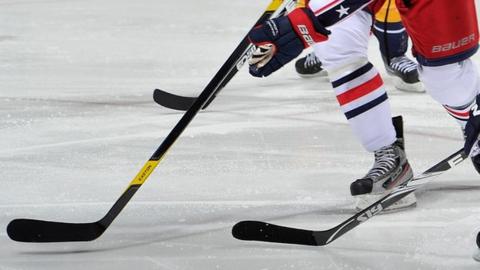 Edinburgh Capitals' hopes of ending an 11-game losing streak ended in heartache as Braehead Clan extended their club record winning run to eight games after penalty shots.
After beating league hopefuls Sheffield Steelers in a pulsating affair at home on Friday, Braehead were on form, but they made hard work of seeing off the Murrayfield men.
Hanging on to a play-off place by their fingernails, the Caps got themselves an early lead when Peter Holecko scored on the rebound for the opener.
Then a flurry of goals followed when Sean Menton increased the home side's lead, but Braehead hit back when Jordan Krestanovich bundled the puck in from close range.
Lee Mitchell's goal got the visitors level, but Richard Hartmann regained the Caps lead ahead of the first interval before Menton restored their two-goal advantage.
Mike Wirll found a little space behind the Caps netminder Nathan Craze to dink the puck into the net to bring Braehead back into the game.
Then Ryan Campbell slalomed his way through the middle to smash a stunning shot past Craze and Braehead found themselves level again.
Overtime couldn't separate them so it was left to the lottery of penalty shots, but where Hartmann and Jarolin failed, Jade Galbraith and Krestanovich succeeded for Braehead.
Edinburgh Capitals captain Jan Safar: "Finally everybody was on the same page in pushing to win, but we're taking the point as a positive and looking up the table rather than down."
Braehead player-coach Drew Bannister: "We found a way to win when playing bad and we picked it up in the last two periods to get the points. That's the most important thing."
Scottish results and scorers
Elite Ice Hockey League
Friday 24 February:
Braehead Clan 2-1 Sheffield Steelers: (Walker 22:56, Bannister 40:21); (King 19:50 PP)
Saturday 25 February:
Edinburgh Capitals 4-5ASO Braehead Clan: (Holecko 7:34, Menton 13:29, Hartmann 16:01, Menton 27:12); (Krestanovich 13:52, Mitchell 14:40, Wirll 32:19, Campbell 42:24, Krestanovich (Winning PS)
Fife Flyers 3-5 Sheffield Steelers: (Stewart 22:20 PP, Bakrlik 28:47 PP, Stewart 34:45 PP); (Hewitt 30:05, Fulghum 32:15 PP, Fulghum 44:41, King 51:46, Legue 59:23 EN)
Sunday 26 February:
Dundee Stars 6-5ASO Braehead Clan: (Kolanos 11:54, Konkle 22:09, Kolanos 50:19, MacLean 50:35, McIntosh 51:26 PP, Hughes Winning PS); (Jorgensen 30:48 PP, McPherson 36:18, Galbraith 39:33, Bannister 45:52, Bayrack 47:03)
Fife Flyers 3-4 Nottingham Panthers: (Kadic 27:52, Gunn 44:26 PP, Gunn 59:59); (Benedict 10:32, Francis 20:20, Myers 38:39 SH, Lachowicz 49:55 PP)
Sheffield Steelers 0-7 Edinburgh Capitals: (King 11:15, Finnerty 12:19, Huttel 28:18, Ramsay 39:44, Birnstill 42:04, Finnerty 51:58, Legue 52:44)