Braehead Clan lose to Belfast Giants in the Elite League
By Craig Anderson
BBC Sport Nation
Last updated on .From the section Ice hockey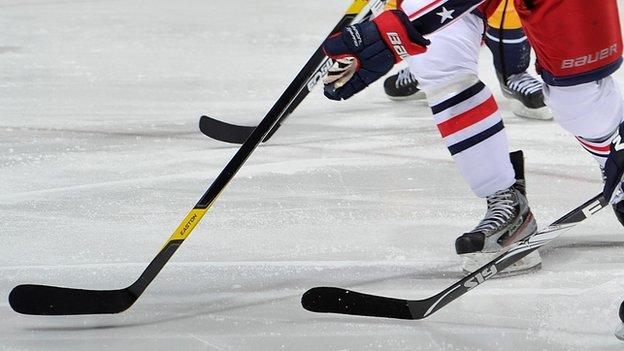 Braehead Clan's hopes of taking fourth place took a battering as Belfast ran out comfortable winners over Drew Bannister's men.
After losing 4-3 to Cardiff on Friday - with the Welsh side's four strikes all coming in the first period - Braehead were looking for a decent start, but again there was an early collapse.
It only took 23 seconds for Robert Dowd to open the scoring, smashing a shot past Jaakko Suomalainen in the Clan goal after being fed by Craig Peacock.
Then Ryan Crane added a second only a couple of minutes later when he finished Mike Hoffmann's pass and, without hitting third gear, the Giants had a two-goal cushion.
Paul Deniset swept in number three on 3:59, barely a minute later, and Suomalainen suddenly found himself benched as understudy Mike Will came on for only his fourth appearance of the season.
Will was then picking the puck out of the net as the Northern Irishmen stormed to a four-goal lead inside the first eight minutes, courtesy of Craig Peacock.
Jeff Mason added Belfast's fifth in the second period, before Jade Galbraith's wraparound goal gave the travelling contingent something to cheer about.
However Robert Dowd notched his second early in the third period, and, as far as Belfast were concerned, their job was done.
Clan defenceman Tim Wedderburn: "Losing the goals in the two games is not good for me as I've been on the ice for most of it.
"Fourth place isn't beyond us yet as there is still matches to play, but these results certainly make things a lot harder for us for sure, but we'll need to see what happens."
Clan netminder Mike Will: "Being thrown in against a team like the Belfast Giants is never easy, but you don't get to think about it."
Scottish results and scorers
Elite Ice Hockey League
Friday 2 March:
Braehead Clan 3-4 Cardiff Devils: (Krestanovich 20:48, Phillips 29:23, Campbell 43:55); (Pierce 0:41, Macrae 6:50, Vanderveeken 14:25 PP, Matzka 16:42)
Saturday 3 March:
Belfast Giants 6-1 Braehead Clan: (Dowd 0:23, Crane 3:08, Deniset 3:59, Peacock 7:36, Mason 26:34 PP, Dowd 43:39); (Galbraith 27:06)
Coventry Blaze 5-3 Edinburgh Capitals: (Cowley 22:14, Farmer 24:05, Kralj 26:55, Fussey 34:45, Kralj 50:59); (Hanzal 34:59, McKenzie 42:39, Petrina 59:44 PP)
Dundee Stars 3-4 Cardiff Devils: (Konkle 8:30, McGoff 10:19 PP, MacLean 46:19); (Macrae 7:37, Vanderveeken 50:43 PP, Macrae 54:10 PP, Macrae 57:27 SH)
Nottingham Panthers 4-3 Fife Flyers: (Beauregard 15:58, Neilson 45:21, Benedict 52:46, Beauregard 59:21); (Scoon 4:46, Hartmanis 12:14 PP, Wilson 25:19)
Sunday 4 March:
Edinburgh Capitals 6-2 Dundee Stars: (Zembergs 12:32, Menton 21:38, Zembergs 28:17, Zembergs 36:10, Jarolin 17:42, Holecko 45:00); (Dolan 25:38, MacLean 34:09 PP)
Hull Stingrays 7-5 Fife Flyers: (Osman 3:05, Campbell 9:02, Silverthorn 10:30, Osman 13:13, Campbell 23:45, Rodin 38:11, Osman 40:09); (Bakrlik 19:56, Bakrlik 30:02, Bakrlik 30:38, Cohen 33:35 PP, Stewart 51:16 PP)