Edinburgh Capitals lose to Belfast Giants in the Elite League
By Craig Anderson
BBC Sport Nation
Last updated on .From the section Ice hockey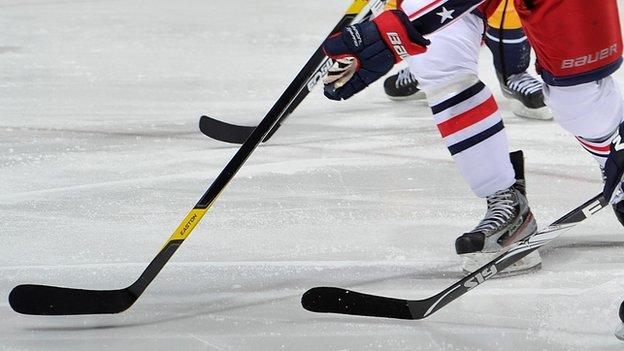 Edinburgh Capitals' hopes of making the end-of-season play-offs are in real jeopardy after being crushed 8-0 by Elite League champions-elect Belfast Giants.
With Dundee Stars beating Braehead Clan 3-0 elsewhere, it takes the Caps out of the reckoning, with the Tayside men moving into the coveted eighth place.
For Edinburgh, it was always a tall order with the Giants on a 13-league game-winning streak, including Saturday's 6-3 win for the Ulstermen at Murrayfield.
But they did it all again a day later and Aaron Clarke got the Giants off to a great start with a first-time shot that ended up in the Capitals' net.
Then Jeff Mason added a second with a fabulous strike that left Caps netminder Nathan Craze following shadows.
Clarke was on hand to make it 3-0 before Giants captain Jeremy Rebek poked the puck just beyond Craze to increase the scoreline.
Craig Peacock fired one in via the inside of the post then added his second, slipping it home after being put through by Robert Dowd.
A square pass from Mason found Adam Keefe, who finished Belfast's seventh, before Mason himself poked the puck past Caps back-up goalie Craig Holland to end the scoring at eight.
Edinburgh forward Bari McKenzie: "I didn't expect that kind of result and I'm embarrassed when you consider we're looking for a play-off spot.
"It's an uphill battle in the next couple of weeks, but with that kind of performance we don't deserve to be in the play-offs."
Edinburgh player-coach Richard Hartmann: "Belfast have great quality, but we had chances early on, but they scored with their first and we couldn't compete with that.
"It's not the end for us and our goal is still to reach the play-offs. I am still optimistic we can achieve that."
Scottish results and scorers
Elite Ice Hockey League
Thursday 8 March:
Braehead Clan 4-3 OT Sheffield Steelers: (Galbraith 3:08, Wirll 16:39, McPherson 45:00, Bayrack 63:21 OT); (King 30:01, Legue 30:41, Ramsay 54:19)
Dundee Stars 8-3 Nottingham Panthers: (MacLean 19:45 PP, Kolanos 30:55, Kolanos 33:13, Kolanos 38:40, MacLean 39:08, Turner 46:03, Konkle 49:37, Kolanos 50:04); (Ryhanen 12:00, Gordon 25:10, Meyers 35:32)
Saturday 10 March:
Edinburgh Capitals 3-6 Belfast Giants: (Hartmann 7:28 PP, McKenzie 49:18, Safar 56:52 PP); (Keefe 11:03 PP, Rebek 21:08, Hoffmann 34:48, Walton 50:50, Pelle 51:58, Dowd 52:58)
Fife Flyers 0-2 Dundee Stars: (Konkle 3:40, Kolanos 32:49)
Sheffield Steelers 6-2 Braehead Clan: (Squires 5:03, Legue 28:38 PP, Phillips 32:07, King 32:58, Phillips 37:35 SH, Fulghum 56:24 PP); (Mitchell 4:53, Galbraith 24:04)
Sunday 11 March:
Coventry Blaze 7-1 Fife Flyers: (Guthrie 10:24, Fussey 16:11, Weaver 19:02, Kralj 20:32, Farmer 20:48, Guthrie 23:30, McLean 55:56); (Hartmanis 17:37 PP)
Dundee Stars 3-0 Braehead Clan: (Hughes 14:50, Kolanos 29:44, Dolan 36:39)
Edinburgh Capitals 0-8 Belfast Giants: (Clarke 11:40 PP, Mason 24:39, Clarke 26:46, Rebek 34:13, Peacock 44:09 PP, Peacock 47:01, Keefe 51:00 SH, Mason 57:26)