Danny Meyers hails 'special' Nottingham Panthers players
Last updated on .From the section Ice hockey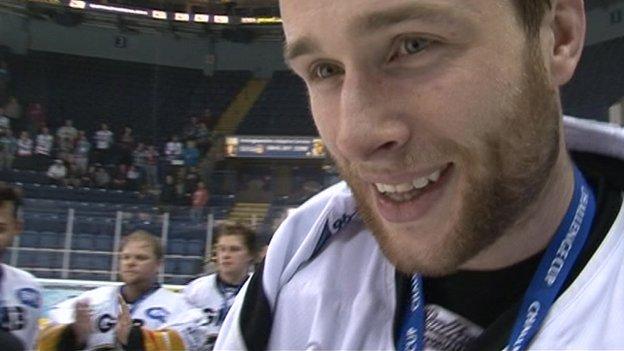 Nottingham Panthers captain Danny Meyers says this year's squad are a "special group of players" as they retained the Challenge Cup.
Meyers told BBC Radio Nottingham: "It is just a different team this season. It is a real good group of guys who work so hard for each other.
"We let ourselves down in the past but I don't think we have this season."
Panthers, who also beat Belfast in last year's final, have now won the tournament in four of the last five years.
"We have had losses but we have worked hard in every game," added Meyers.
"This is history now. We stand alone in the Challenge Cup, three in a row, and I believe we have won it the most times now.
"And it is nice to do the right way, we have won the second leg for a change."
Player-coach Corey Neilson, who has now won four trophies in four years as coach of the club, said: "I am thrilled. There is so much excitement.
"That [first leg] performance in Belfast really led to tonight. Belfast are a fantastic team and, in my opinion, the best team in the league this year.
"But these two games were our day. Good goaltending, solid defence and timely goals, it is a good combination."
Neilson also won the play-offs and Challenge Cup as a Panthers player in successive seasons after being brought to Nottingham by former coach Mike Ellis in 2006-07.
He took over as player-coach two years later and has since won the Challenge Cup three seasons in a row and the play-offs last year after a trophyless first campaign in charge.
Defenceman Brock Wilson, in his first season at the club, said: "It was amazing. It was awesome and a great team effort. I am proud of these guys.
"Unfortunately we could not get the fans a league title but this is the second-best thing. Now we have to focus on the play-offs."
Forward David Clarke, who has now won six trophies with the Panthers, added: "It is a great achievement to retain it three times in at row.
"In this building with so many people in here, I am really pleased how we saw the game out."