Clan inspire devotion on the road
By Craig Anderson
BBC Sport Nation
Last updated on .From the section Ice hockey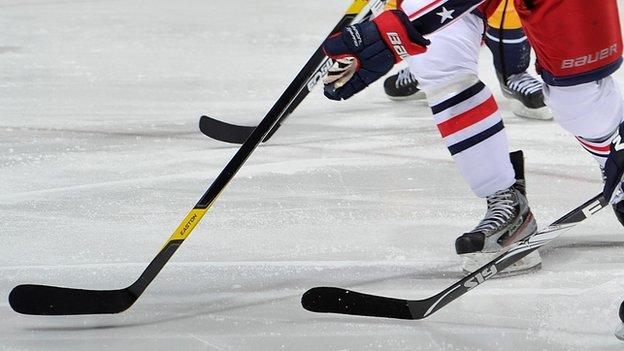 It's just after 0930 on a Saturday morning as some people stand huddled in a car park somewhere in Ayr, decked out in purple, looking bleary-eyed and all waiting for a bus.
It can only be a Braehead Clan road trip.
This journey is probably the biggest one of all for the Clan faithful, in terms of the one they look forward to and the one the organisers have to arrange as they all head to Belfast.
An hour's bus ride to Cairnryan ferry port, a few miles from Stranraer, then a couple of hours on the ferry before arrival in Northern Ireland.
It seems straightforward, but there's more to it than that as Braehead Clan Supporter's Association chairman David Robertson explained.
"Logistically, going to Belfast is the most difficult one of the regular season trips to arrange, with having to organise the ferry, as well as provide a list of those travelling for security reasons," he said.
"With other trips, it's a matter of getting a bus, getting numbers and away we go, to an extent, which makes it easier than travelling over the Irish Sea.
"There is also organising pick up points and, with fans coming from Ayr, Kilmarnock, Glasgow then into Lanarkshire, from East Kilbride and Hamilton, it has its own challenges as well.
"It's designating the numbers to the buses, if there's more than one, and making sure we get everybody. There are instances where people don't show up, but that happens, which is frustrating.
"However, the play-off weekend in Nottingham is much more difficult, with accommodation for three nights and having the bus for four days, but that's only once a year thankfully."
David revealed the task of organising the away travel is designated to Brian McJannet with Ricky Gillespie helping out too.
As well as arranging away travel, he can be seen outside Braehead Arena sorting out tickets for the supporter's association members.
But why do guys like David, who love their team and follow them around the country as and when they can, do what they do, in giving up the time and effort to go to such lengths?
For David, it's a labour of love for a sport he has had close association with since the days of the Ayr Eagles.
He said: "There was a joke going round back in the days at the Centrum (the old home of the Eagles) that I was last to put my hand down when it came to needing someone to muck in.
"When Braehead Clan was being formed, I was sounded out about getting a fan base together and I was brought on board.
"So, leading with my experience, I've seen the Clan thrive in the last couple of years to what it is and to be perfectly honest, I love the involvement.
"Plus I would never call it a chore. With the hours we put in collectively, if we called it that, there's no way we would do it unpaid."
On arriving in the Northern Irish capital, it's still early afternoon so everybody goes off to do their own thing for the few hours available before the match.
While some decide to visit local establishments for a refreshment or two, others take in what sights they can in the limited time available.
When it comes to the game, which Braehead lost 6-1 as it goes, the fans are singing proudly, particularly those a little merry after enjoying a few drinks.
So what happens if individuals start to misbehave or cause trouble on these kinds of trips?
David revealed: "We tend to police ourselves if that kind of thing happens. To use Belfast as an example, the senior stewards know who Brian and I are so they would come to us.
"All it takes is for them to have a word with us and we would speak to the people involved and take care of the situation ourselves. But that's never really been an issue wherever we've gone."
So, with the weary troops heading back after that result, it's gone 0145 by the time the ferry arrives back in Scotland, then at least another hour on to Ayr, where most will return.
It's the last time Braehead will visit Belfast this season, but everybody has had a great day out as they trudge sleepily back to their cars to go home.
For David and Brian, it's another trip ticked off the huge fixture list until the next one, which is Sheffield a week later.
No ferries involved there.