Edinburgh Capitals lose to Coventry Blaze in the Elite League
By Craig Anderson
BBC Sport Nation
Last updated on .From the section Ice hockey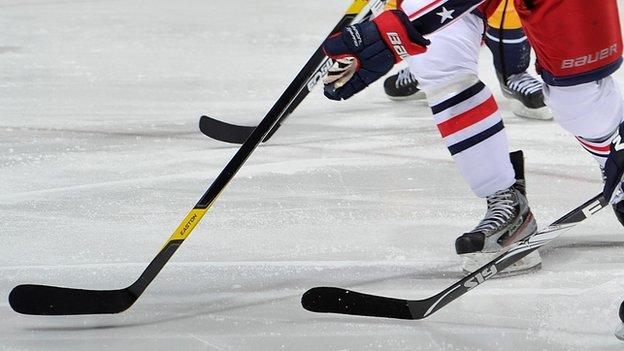 It may have been another defeat, but Edinburgh Capitals showed they are still in with a shout of the play-offs despite going down 3-2 to Coventry Blaze.
The performance was much improved from Thursday's 10-4 capitulation to Cardiff Devils, but they still need a couple of wins to increase their play-off chances.
Rene Jarolin glided inside from the left before despatching the puck past Coventry keeper Peter Hirsch to get Edinburgh's opener.
But, despite some resolute defending, the home goal was finally breached as Robert Farmer's blocked shot was finished by Shea Guthrie, and the Blaze were level.
Paul Thompson's side upped the ante, and it seemed inevitable when Russell Cowley put the Blaze ahead minutes later, poking past Caps goalie Nathan Craze from close range.
However, Jan Safar prodded in Peter Holecko's pass near the end of the second period for a deserved equaliser, setting up an interesting final period.
Coventry's winner came in controversial circumstances as Peter Nylander's shot came off the post and looked to have trickled over the line enough to convince referee Neil Wilson to give it.
But, despite late pressure from the home side, including two good chances from Marcis Zembergs, the Caps just couldn't find a leveller.
Edinburgh Capitals netminder Nathan Craze: "For the third goal, I know I had the puck and it got away from me. Whether it crossed the line I'm not completely sure, to be honest.
"We were definitely up for it after the disappointment of Thursday and we more than matched Coventry. It's that kind of luck that's gone against us at times this season."
Edinburgh Capitals bench coach Jock Hay: "For me, we were the better team and I thought we had more quality shots over them in the whole game.
"I'm disappointed we didn't get anything though because I felt we deserved it."
Scottish results and scorers
Elite Ice Hockey League
Thursday 15 March:
Cardiff Devile 10-4 Edinburgh Capitals: (Adams 1:16, Dobben 11:30 PP, Vanderveeken 16:13 SH, Vanderveeken 23:28 PP, Macrae 25:54, Vanderveeken 29:23 PP, Davies 29:53, Macrae 31:16 SH, Pierce 36:22 PP, Pierce 38:43 SH); (Valecko 39:54, Menton 41:09, Jarolin 43:40 PP, Petrina 51:35)
Saturday 17 March:
Braehead Clan 6-2 Fife Flyers: (Galbraith 33:22 PP, Bayrack 36:41, Galbraith 38:29, McPherson 51:35, Bayrack 55:24, Walker 56:47); (Kadic 10:18, Gunn 39:52)
Edinburgh Capitals 2-3 Coventry Blaze: (Jarolin 9:31, Safar 37:56); (Farmer 25:35, Cowley 28:58, Nylander 48:39)
Sunday 18 March:
Dundee Stars 0-4 Coventry Blaze: (Jurynec 25:49, Guthrie 26:39, Guthrie 55:18, Guthrie 58:27)
Fife Flyers 1-5 Cardiff Devils: (Gunn 38:02); (Pierce 0:20, Dobben 7:59, Harding 22:00, Pierce 35:03, Davies 43:59)
Nottingham Panthers 4-3OT Braehead Clan: (Clarke 5:03, Fox 24:55, Neilson 57:57 PP, Beauregard 60:36 OT); (Galbraith 16:19, McPherson 40:47, Campbell 47:17)