Edinburgh Capitals beat Fife Flyers in the Elite League
By Craig Anderson
BBC Sport Nation
Last updated on .From the section Ice hockey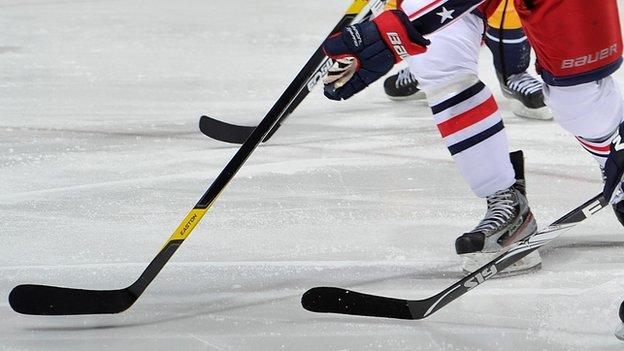 Edinburgh Capitals and Fife Flyers both missed out the play-offs, so this game should have meant nothing. No-one told the players though.
Fourteen goals and seven players ejected from the game for various crimes of misconduct made sure this end-of-regular-season affair ended on a memorable note.
Bari McKenzie - twice - and Peter Holecko handed the home side a three-goal lead within the opening five minutes, before Fife's Danny Stewart hauled one back.
Richard Hartmann flicked into the Fife goal to make it 4-1 then Stewart added another for the visitors to reduce the arrears to two. And that was only the first period.
Marcis Zembergs and Tomas Valecko made it 6-2 early in the second, followed by Chris Wands getting another back for the Flyers, only for Sean Menton to score for the Caps.
Then the madness began, as both sets of players got involved in various ugly scenes of fighting, with penalties dished out across the board for both teams.
In among the boxing, an ice hockey match broke out as further goals either side of the second interval saw Menton, Rene Jarolin, McKenzie and Zembergs add to the heavy scoresheet.
Edinburgh saw Jozef Sladok, Jan Safar, Valecko and Jarolin all ejected by referee Moray Hanson, along with Fife trio Stewart, Frankie Bakrlik and Thomas Muir.
Capitals forward Bari McKenzie: "We won the game, I got a hat-trick, but the game was an utter shambles. We're meant to be professionals and it got out of hand.
"It wasn't fun to play in and, while it happens in hockey, it takes away from what is a great win for us. However, in the context of the season, it's too little too late."
Fife assistant coach Danny Stewart: "It wasn't the game I expected, but we came out a little flat. I couldn't understand how good they were, when they've been beaten heavily in recent days.
"I thought the referee did a good job controlling what became an uncontrollable situation and I don't think anyone can say it's his fault at all."
Scottish results and scorers
Elite Ice Hockey League
Friday 23 March:
Nottingham Panthers 7-0 Edinburgh Capitals: (Ryhanan 3:50, Fox 16:28 PP, Francis 18:05, Francis 27:00, Meyers 28:00, Beauregard 42:54, Francis 57:43)
Saturday 24 March:
Braehead Clan 6-1 Hull Stingrays: (McPherson 21:26, McPherson 24:33, Jorgensen 46:23, Krestanovich 46:49, Campbell 50:44, Haywood 57:42 PP); (Silverthorn 40:45 PP)
Fife Flyers 1-2OT Dundee Stars: (Bakrlik 50:53); (Hutchins 53:31, Zarb 62:48 OT)
Sheffield Steelers 13-2 Edinburgh Capitals: (Phillips 4:44, Fulghum 8:04, Ramsay 16:36, Legue 16:55, Legue 20:48, King 31:02 PP, Legue 34:25, Ramsay 37:11, Sarich 44:06 PP, Squires 44:52, Fulghum 54:42, Ramsay 55:54, Finnerty 58:01 PP); (McKenzie 40:14, Menton 58:41)
Sunday 25 March:
Edinburgh Capitals 11-3 Fife Flyers: (McKenzie 1:51 SH, Holecko 3:04, McKenzie 4:18 PP, Hartmann 19:26, Zembergs 25:49 PP, Valecko 27:33,Menton 30:31, Menton 32:49, Jarolin 36:39, McKenzie 41:26, Zembergs 44:38); (Stewart 17:10, Stewart 19:43, Wands 30:17)
Hull Stingrays 6-2 Dundee Stars: (Tendler 26:38, Silverthorn 35:14, Osman 48:36 PP, Tendler 55:16, Tendler 55:42, Silverthorn 59:33); (Zarb 21:18, Hutchins 32:27)
Sheffield Steelers 4-5 Braehead Clan: (Legue 0:25, Phillips 28:57, Stephenson 29:44, Legue 44:21); (Galbraith 15:46 PP, Walker 34:21 SH, Bayrack 50:04, Campbell 54:18 PP, Wirll 59:57)