Braehead Clan and Dundee Stars set for Elite League play-offs
By Craig Anderson
BBC Sport Nation
Last updated on .From the section Ice hockey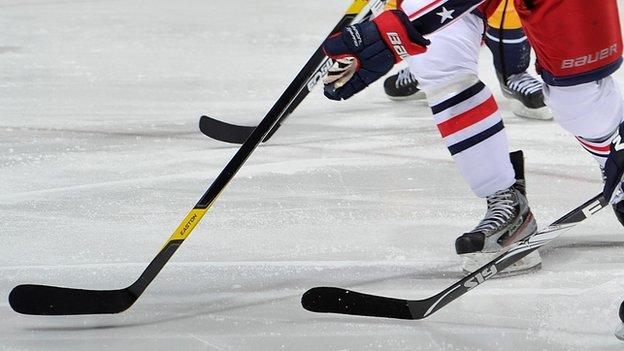 It's a big week for Braehead Clan and Dundee Stars, who are about to embark on an Elite League play-off adventure.
Both clubs qualified for the last eight by virtue of their league positions and face two of ice hockey's big guns to try and reach the finals weekend, taking place at Easter.
Braehead Clan are up first and face Nottingham Panthers, firstly at Braehead Arena on Tuesday before travelling to East Midlands for the second leg on Saturday.
The Purple Army may have unfinished business against a side who have knocked them out of the Challenge Cup this season and the play-offs 12 months ago.
But Braehead skipper Jordan Krestanovich insists revenge won't be on his team's mind when they face them in tonight's first leg.
He said: "We seem to play these guys a lot in this kind of situation, but we've just got to take it as it is and the team we have to beat in the finals.
"Nottingham are a strong team who, like us, will want to be in the last four when it comes. It'll be an interesting battle and one we're all looking forward to."
Drew Bannister's men come into the game on the back of three wins from their last four, with Mike Wirll's winner sealing a 5-4 victory over Sheffield Steelers on Sunday.
But Krestanovich is looking at the first leg being at home as an advantage, despite only a day's rest and is hoping the fans will do their bit once again.
He added: "Having the first game in our barn is definitely a plus for us and having one day of rest is not a worry, with the season coming to an end.
"We've beaten Panthers a couple of times at home this season, so they hold no fear for us. We can beat any team on any given night.
"The fans have been outstanding for us all season and they've been filling the arena and making the noise. Hopefully they can do it for us again."
The Panthers are this season's Challenge Cup winners, but finished third in the Elite League standings, despite being tipped to win it this season.
They have the edge, though, with five wins out of seven against Bannister's side, but the two Braehead victories were both north of the border, which could be vital over the two legs.
Meanwhile, having more time to look ahead to their big weekend is Dundee Stars, who pipped Edinburgh Capitals to the last play-off spot on Saturday.
Their reward is a two-legged affair with Elite League champions Belfast Giants, starting on Saturday at the Odyssey Arena then returning to Dundee on Sunday for part two.
The turnaround at the club has been impressive in the last few weeks, with the Stars winning six of their last 11 to claim their place.
Player-coach Brent Hughes took over in December following the dismissal of Dan Ceman with the Stars rooted to the bottom of the table, and he steadied the ship.
Hughes, though, is under no illusion of the task lying ahead and has vowed to swot up on his opponents before they meet on Saturday.
He said: "Everyone knows about how good Belfast have been this year so we know exactly the sort of test we're going to get from this game.
"For some reason, we tend to raise our game when we come up against the big clubs, so we'll certainly be doing our research before Saturday.
"If we can play a smart road game and not give away too much, then hopefully that should give us a platform to build on for Sunday."
The omens aren't good, though, with the Stars having failed to beat the Giants all season, although they have taken them to overtime and penalty shots at home.
But Hughes insists he's happy with the underdog tag and is looking forward to the matches.
He added: "We're happy to be in the play-offs and, right now, we're not afraid of any team so the challenge of facing and trying to beat a team like Belfast is welcomed.
"Being the underdog isn't a problem for us, given the quality of opposition we've got, but the aim is to stay focussed and play the game and we'll see what happens on the night."
Scottish play-off fixtures
Tuesday 27 March:
Braehead Clan vs Nottingham Panthers (First leg, 7.30pm Face off)
Saturday 31 March:
Belfast Giants vs Dundee Stars (First leg, 7pm face off)
Nottingham Panthers vs Braehead Clan (Second leg, 7pm face off)
Sunday 1 April:
Dundee Stars vs Belfast Giants (Second leg, 6.30pm face off)