Elite League play-offs: Belfast and Nottingham eye double
Last updated on .From the section Ice hockey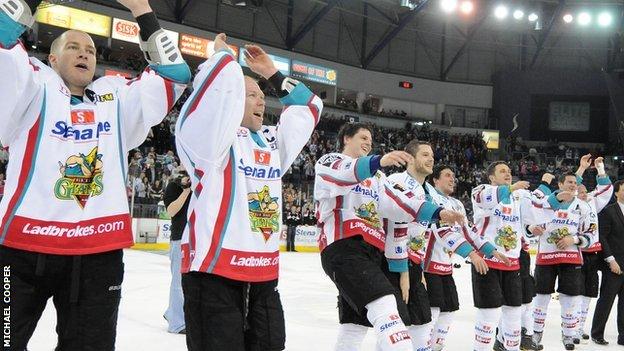 The Elite League season reaches its climax this weekend with the play-off finals at the National Ice Centre in Nottingham.
And a Nottingham Panthers side hoping to complete their second cup double in two years, face underdogs Hull Stingrays in the second semi-final [1700 BST]
BBC Sport's Owen Bradley takes a look at all four contenders.
BELFAST GIANTS
Story so far: The Giants stormed to their first Elite League title in six seasons, hitting top spot in late September and never relinquishing it. Doug Christiansen's side eventually finished 11 points clear of their closest challengers, and led by British forward pairing Robert Dowd and Craig Peacock should be confident of cementing their status as the league's top outfit. Their 14-0 crushing of eighth seeds Dundee in the quarter-finals is another indication of their dominance.
Play-off credentials: While formidable in the league, Belfast came unstuck against the Nottingham Panthers in this year's Challenge Cup final. The Giants were blown away by the defending champions at home in the first leg, prompting questions about their ability to perform on the big occasion. Last year's semi-final defeat by the Devils suggests a similar frailty, but Belfast have the strength in depth to at least reach the final, and should win it.
Key player: Netminder Stephen Murphy's performances this season dispelled the myth that you cannot win with British goalies. The 30-year-old Scot was statistically top of the pile, and is nominated for the player of the year crown, alongside team-mate Robert Dowd. Yet his performance in the Challenge Cup final - behind a lacklustre Giants display - was shaky. Belfast will need their starter to be at his best.
Coach Doug Christiansen's view: "If you look at Cardiff in terms of regulations losses this season, they're right up there with Nottingham, Sheffield and ourselves. We're going to have to be at our absolute best and hopefully that will bring us success."
CARDIFF DEVILS
Story so far: Cardiff keep up their record of being the only team to reach every finals weekend despite a season plagued by injury. A comfortable fourth place finish was achieved without iconic captain Brad Voth, who was forced to retire mid-season, while neck surgery ruled out forward Max Birbraer and defenceman Mark Smith only recently returned to the blue line.
Play-off credentials: The Devils will be desperate to paint themselves as the underdogs of their semi-final, while being equally desperate to finally taste play-off glory. As well as reaching the final four every season, Cardiff have finished as runners-up three times, including twice in the last two years. The seedings would suggest they had the toughest quarter-final opponents, and so it was that the Devils had to battle back in Coventry before pulling away from the Blaze in the second leg. Short-benched or otherwise, the Devils have already beaten Belfast on big ice this season, enough to give the Welsh outfit hope that a place in the final yet again is not beyond them.
Key player: Second-year Devil Stuart MacRae led the team in regular season scoring and appears to be peaking at the right time, scoring twice and setting up two more in the quarter-final second leg victory over Coventry. With high-impact players like Voth missing, it will be down to MacRae to find a way past a tight Giants defence that conceded a league-low 102 goals.
Coach Gerad Adams' view: "Considering what we've gone through this year, this finals weekend is the most special. Last year we expected to win it, this year it's the opposite. We need Belfast to play badly, and get some luck, to reach the final."
NOTTINGHAM PANTHERS
Story so far: The defending champions needed a heroic overtime goal from Brandon Benedict to get past the Braehead Clan in the quarter-finals. Written off by many after a 3-0 first leg defeat in Scotland, Nottingham's big-game mentality and experience took over when back at the National Ice Centre. Bad memories of another disappointing league campaign would be softened by another play-off crown, and see Nottingham claim their fourth piece of silverware in two years.
Play-off credentials: Nottingham under Corey Neilson have developed a reputation as a team that turns up for the big occasion. Few backed them to defend their Challenge Cup title against Belfast this season, while fewer still probably expected them to win the play-offs 12 months ago. Nottingham have beaten Hull in all seven of their meetings this season, so it will be interesting to see how they cope with the unfamiliar tag of out-and-out favourites in their semi-final. Anything less than another final appearance on Sunday will be a major shock.
Key player: He attracts negative comments from around the country, but a nomination as the Elite League's top defenceman once again underlines the quality of Panthers player-coach Corey Neilson. While forechecking and netminding are important to Nottingham, Neilson's performance on the blue-line and ability to contribute in attack cannot be understated. He will also quarter-back the Panthers powerplay, which will need to improve if Nottingham are to do the double, again.
Player coach Corey Neilson's view: "We know there's always a chance big teams can be unseated if they don't do what they do, and even sometimes when they play well. Hull have guys who can score and a netminder who can keep us out."
HULL STINGRAYS
Story so far: The Hull Stingrays are the Elite League's Cinderella story. Skating with just nine imports since before Christmas because of cost-cutting, the seventh seeds only made the play-offs by six points, and were written off by just about everyone ahead of a quarter-final date with league runners-up Sheffield. After holding the Steelers 2-2 at home, the Rays took their chances in the second leg to inflict a shock 5-2 defeat on their hosts.
Play-off credentials: To call them underdogs probably does not do justice to just how much of a shock it would be if Hull were to beat Nottingham on Saturday. The Stingrays are the lowest ranked side to reach a finals weekend. They have lost all their meetings with the Panthers this season, including the most recent 4-1 defeat at home. But the play-offs can do funny things to a team, and with a side bonded by adversity and still soaring on the high of their quarter-final shock, anything could happen.
Key player: Former Steeler Derek Campbell came back to haunt his former employer in a big way in the quarter finals, scoring once in Hull before bagging a hat-trick in Sheffield to put them out. Hull will be relying on him to find the goals against Nottingham, who consider their netminder Craig Kowalski to be the best in the league.
Coach Sylvain Cloutier's view: "What we achieved against Sheffield was unbelievable. It still hasn't really sunk in. We know Nottingham are probably the biggest team in British ice hockey, but there's no pressure on us."
You can hear full live commentary of the second Elite League semi-final between Nottingham Panthers and Hull Stingrays here.