Nottingham Panthers are ready for title push - Meyers
Last updated on .From the section Ice hockey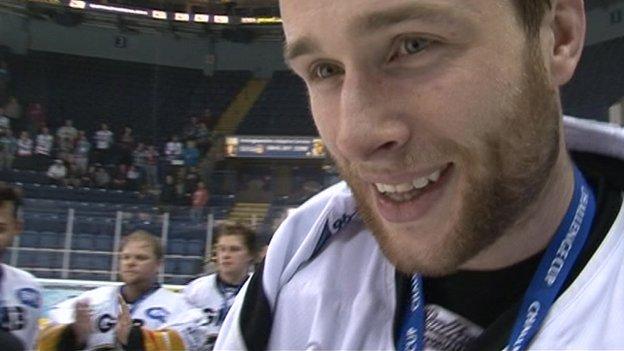 Nottingham Panthers are geared up and ready to win the Elite League title, according to captain Danny Meyers.
Nottingham have not won the league since 1956, but Meyers told BBC Radio Nottingham: "We just need that one final piece of the jigsaw.
"But it's coming. It will be there sooner or later."
Meyers has now lifted five trophies as Panthers captain.
"The important thing is that we're going in the right direction, and I feel like this organisation is gearing up to win a title," he added.
"If we were going the other way then we would have problems."
Nottingham finished third in the Elite League, 15 points behind champions Belfast Giants.
"We won't need to change much to challenge next season," said Meyers. "We hit 80 points this year which we haven't done before.
"But everyone around the league knows that sooner or later it will happen. It's only a matter of time now."
The 29-year-old defenceman also won the play-offs in his first season with Nottingham in 2007.
"This organisation always takes a lot of stick, we're the envy of a lot of people. We're up on that pedestal and people are always going to try to knock us off," Meyers said.
"I crave that league title so bad and I know my team-mates do.
"There seems to be no patience nowadays in sport. People have to realise that it does take time.
"Look at the Detroit Red Wings, they went over 40 years without winning the league. But things change.
"So I'd say to the fans, be patient, we are getting there. We're giving everything that we have."