Nottingham Panthers release captain Danny Meyers
Last updated on .From the section Ice hockey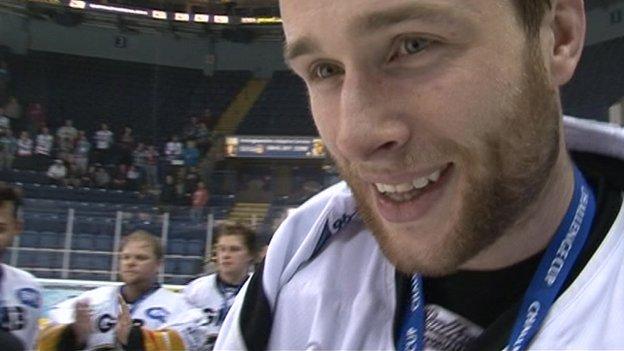 Nottingham Panthers have released long-serving captain Danny Meyers.
The Great Britain defenceman led Panthers to a second consecutive Challenge Cup and Play-offs double last term and was expected to be retained for a seventh season with the club.
A shocked Meyers, 29, said on his Twitter account: "It has been an incredibly difficult week. I won't be deciding my future for a while."
Meanwhile Panthers have signed Meyers' fellow GB defenceman Jonathan Weaver.
Weaver, 35, was released by cash-strapped Coventry Blaze at the end of the season - his fifth with the club.
Panthers player-coach Corey Neilson, who will be concentrating more on his coaching next season, told BBC Radio Nottingham that Weaver's experience and quality will be a huge benefit.
Neilson said: "I realise I am going to have to find somebody to do my job and who better than the only guy [defenceman] in Elite League history to score more points than me?
"He is fifth all-time for points with everybody - forwards included. He is a quality guy. I had to make up my points and he ticks that box.
"The other thing we are focusing on is the league title. We wanted experience in that area - someone who has won it before.
"We think if we had that guy who has a calming word and the right idea then maybe that would help."
Neilson also paid tribute to departing skipper Meyers.
"It's hockey and people come and go," Neilson said. "I'm not making light of Danny. He was real loyal player and a good captain and did a lot of great things.
"We had a very professional meeting and went over things. It was tough. We have been together for six years. He's a team-mate, friend and neighbour and it's very hard. I thought he dealt it with in a very professional manner, I was thankful for that and tried to be the same.
"Sometimes things change. It happens. There is a natural timeline.
"I have to make certain decisions. Was I willing to go with three very good British defenceman and two imports? I didn't want to go that way.
"We decided this would be the way to go. We feel Stevie Lee and Jonathan are import quality defenceman and that was the thinking".
Panthers have also announced a new-two-year contract for Rob Lachowicz while fellow forward Josh Ward has returned after a season with Manchester in the English Premier League.
And Rick Strachan has signed a one-year to return as assistant coach.