Nottingham Lions face Sutton Sting in relegation decider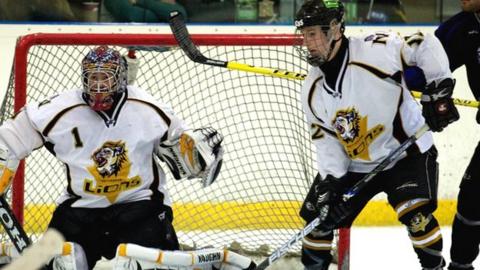 Nottingham Lions face a crucial two-legged relegation play-off against local rivals Sutton Sting this weekend as they look to avoid dropping to the second tier of the English National League.
The Lions normally live in the shadow of the Panthers, who clinched a second consecutive double this season with play-off and Challenge Cup success.
But this weekend they will take centre stage as they take to the rink at at the National Ice Centre in the second of two vital matches.
Head coach Matt Bradbury, who played 27 games for the Panthers in the early 90s, said: "Staying in the top division is key for the progress and development.
"This season we've been rebuilding and, with the number of young players coming through the ranks, we've got a bright future. But this season has been tough.
"We've been in this league a long time."
The first leg takes place at Ice Sheffield on Saturday, with the return in Nottingham on Sunday (17:00 BST).
"This weekend is so important," added Bradbury. "They'll be plenty of wind-ups from both sides, but we're approaching the games as professionally as we can. That focus is key for us.
"Sutton are billing it as Nottingham are favourites and they're the underdogs. That's just bravado, we're ignoring it because they are a quality team.
"They've got some experienced players. We have to respect them and I'm sure deep down they'll be respecting us.
"This weekend will be a great spectacle. It's great for Nottinghamshire ice hockey. The sides have never met before, and I just hope the Nottingham fans will turn out and support us.
"Financially that will be a massive boost - we're both semi-professional teams, but there are so many costs involved and a big gate this weekend will do so much for the club.
"I have total faith in the squad, the players, the staff. We've been working so hard going into this. We can't concentrate on anything apart from the way that we play, and if we perform, we'll win.
"But if we don't, Sutton will make things very difficult for us."