Belfast Giants bring in Daymen Rycroft from Arizona Sundogs
Last updated on .From the section Ice hockey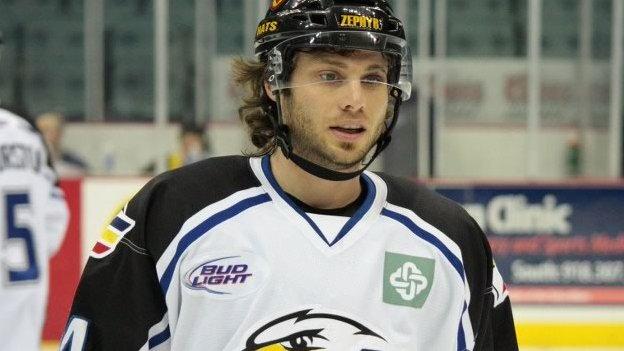 Belfast Giants have signed former Central Hockey League All-Star Daymen Rycroft from the Arizona Sundogs.
The forward is coming off an injury shortened season, where he scored 25 points in 32 games.
Prior to last season, Rycroft netted 25 or more goals in six consecutive seasons and has been captain of four professional teams.
"He's a gritty player who can score and he's been a leader his entire career," said Giants coach Doug Christiansen.
He added: "Daymen is a player that I tried to sign last January. We came very close to adding him before the transfer deadline but the deal did not happen.
"I spoke with a number of his former team-mates and they raved about his competitiveness and work ethic.
"Daymen is a player that I expect we can rely on night in and night out."
Rycroft, who can play in all three forward positions, is looking forward to starting the season with the Elite League champions.
"I am a player in search of my first championship - I have been close a few times but I want to be part of a winning organisation and Belfast have the reputation of being consistent winners" he said.
"To say that I am excited is an understatement. After turning down the Giants in January to stay loyal to my team in Arizona, I knew that I wanted to be a part of the Giants this season.
"There is no other place I wanted to sign. I can't wait to get to Belfast and experience everything that it has to offer."