Belfast Giants sign former Canadiens forward Gregory Stewart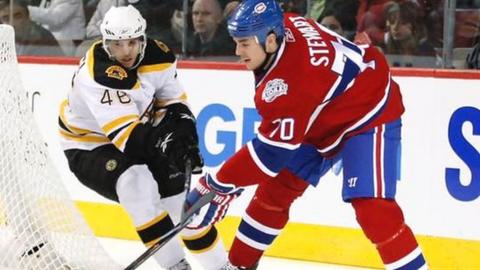 Belfast Giants have signed former Montreal Canadiens forward Gregory Stewart for the 2012/13 campaign.
Stewart played 26 games for the Canadiens over two seasons and has made 246 appearances in the American Hockey League, mostly with Hamilton Bulldogs.
"Adding a player in the prime of his career and who played in the NHL two years ago is a massive coup," said Giants coach Dough Christiansen.
"He's a hardnosed player - he can skate fast, hit hard, fight and score."
The 26-year-old most recently played in the AHL with Oklahoma City Barons in 2010/11.
Stewart was an 8th round pick of Montreal's in the 2004 NHL Draft.
"He will create space for players around him and his overall skill set should allow him to make an impact every game," added Christiansen.
"You just don't make it to the NHL as a 8th round draft pick if you do not play the game with passion. I expect him to be a big part of our team and I expect our fans to love him."
Stewart's signing comes a day after the Elite League champions added Canadian defenceman Sam Roberts to their roster for next season.