Belfast Giants sign forward Scott Champagne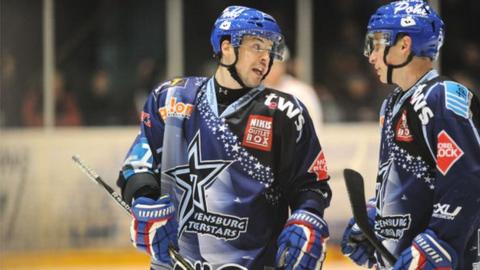 Belfast Giants have added playmaking forward Scott Champagne to their roster for next season.
The 29-year-old Canadian scored 39 points for Nottingham Panthers last season before a spell in Germany.
Champagne has also played in Denmark and he won a professional title with Asian League side Tohoku Free Blades.
"I've heard great things about the city, the fans and the organisation - I'm looking forward to bringing another championship to Belfast," he said.
Champagne is a 5'11" forward who plays mostly wing but can also play center if necessary.
"Scott is a gifted passer and he is one of those guys that makes the players around him better," said head coach Doug Christiansen.
"We have a number of players who are goal scorers and we needed someone who can get them the puck in the right areas. Scott is the right man for the job.
"He knows the league well from his time in Nottingham and has proven himself to be an elite player.
"We needed a player like him to set up the likes of Noah Clarke, Daymen Rycroft and Craig Peacock.
"He immediately makes us more dangerous offensively and better on the power play."