Nottingham avenge Saturday loss as they beat Giants in shoot-out
Last updated on .From the section Ice hockey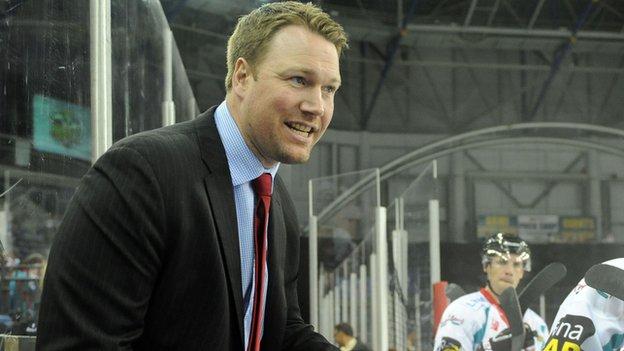 Nottingham Panthers avenged Saturday's opening 5-3 Elite League defeat by the Belfast Giants as they snatched a shoot-out victory over the champions at the National Ice Arena on Sunday.
The Giants led twice thanks to goals from Robbie Sandrock and Scott Champagne but the Panthers equalised both times to ensure the shoot-out.
Andrew Fournier and Noah Clarke missed in the shoot-out as the Panthers registered a 3-2 victory.
Belfast next face Dundee on Thursday.
That Odyssey Arena clash, which counts both towards the League and Cup, will be Belfast's first home game of the season.
In Sunday's match, after a goalless first period Sandrock put the Giants ahead at 1.23 in the second period with a powerplay goal.
Nottingham were on terms within three minutes as Robert Lachowicz netted and Champagne's strike in the third period was cancelled out by a Matt Francis goal as the game went to the shoot-out.
Craig Peacock was successful for the Giants in the shoot-out but with Fournier and Clarke failing to convert, strikes from Francis and Pat Galivan meant that Nottingham edged the verdict.
In Saturday's game, Francis scored for the Panthers in the first period but the Giants led 4-3 after the second period.
Adam Keefe, Fournier, David Phillips and Champagne scored for the Giants, with Lachowicz and Jordan Fox on target for Nottingham.
Sam Roberts was the only player to find the net in the third period.