Nottingham Panthers sign NHL forward Anthony Stewart
Last updated on .From the section Ice hockey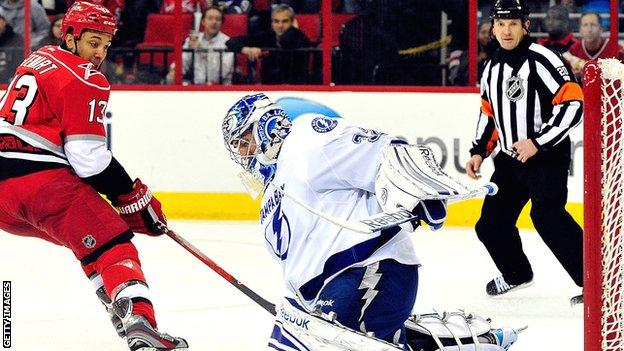 Nottingham Panthers have taken advantage of the lock-out in the NHL by signing Carolina Hurricanes forward Anthony Stewart on a short-term deal.
There are currently no matches in the NHL because of a pay dispute between owners and players.
Panthers player-coach Corey Neilson told BBC Radio Nottingham: "It is definitely the biggest signing since I have been here.
"He seems like an excellent young man who wants to come in and work hard."
Stewart, 27, has played 262 NHL games and has also had spells with Florida Panthers and Atlanta Thrashers.
"I'm genuinely thrilled to see him joining us, for however long," Neilson continued.
"The lock-out has opened up some doors to bring in someone of Anthony's character and ability."
Many of the NHL players have decided to stay in North America and play in the American Hockey League, the step below the NHL, while some have decided to find clubs in Europe.
During the last lock-out in 2004-05, numerous NHL players played in the UK's Elite League and the Panthers signed defenceman Nick Boynton, who went on to win the Stanley Cup with Chicago Blackhawks in 2010.
The Panthers also brought in fellow defenceman Ian Moran and forward Steve McKenna and the trio helped Nottingham reach the play-offs in 2005 but lost 2-1 to Coventry Blaze in the final.
Neilson added: "The support from management in bringing this about has been fantastic.
"The boss picked up the baton less than 24 hours ago and, with backing from the chairman, here we are making an announcement of this nature. Fantastic."