Scottish ice hockey's working man
By Craig Anderson
BBC Scotland
Last updated on .From the section Ice hockey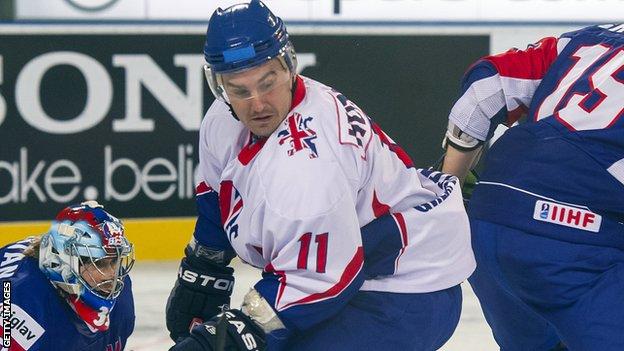 There are plenty of players in ice hockey you would define as hard workers and real grafters. Dundee Stars' player-coach Jeff Hutchins certainly typifies that definition.
As well as coaching and playing for the Tayside club, Hutchins also works full-time in digital marketing for a firm in Edinburgh.
Digital marketing can involve long tiring hours in the hustle and bustle of a busy office environment and Hutchins has to be on top of dealing with clients as he sells banking and insurance products.
But how does the 34-year-old manage to balance the two careers, plus spend time with wife, Sabrina and their two young daughters, with such a demanding schedule?
He explained: "A typical week of my schedule sees me at my desk on Monday morning for 8am and I'll leave about 6pm, go home, spend some time with the kids and any hockey stuff I need to care of, I'll deal with that.
"We practice in Dundee from Wednesday to Friday and because I have to travel from Edinburgh, I have to take three or four hours in the middle of the day.
"My work is really flexible and my employers are really supportive of sport.
"On Wednesdays, I go in at 7am and I leave Edinburgh at 11am and get to Dundee for 12 noon and we're on the ice for 12.15pm.
"Obviously I prepare a practice schedule the night before. Any line stuff I want prepared, I send to AJ MacLean, my captain, and he sorts those.
"After practice, I work from my office in Dundee and I have connectivity which allows me to cut my travel time and I am able begin as soon as we come off the ice.
"I stay over in Dundee and then the next morning I'm back at my desk at 7am and work there until 11.30 when I switch on to hockey mode and I return to the office when I finish there.
"Friday is then a normal day where I'm in for 7am and back home for 7-7.30pm and I start to think about the games over the weekend."
Hutchins took the role on in the summer, replacing Brent Hughes and has seen his team win eight from 14 matches so far, including Sunday's 1-0 win over Fife Flyers.
But he insists there's never been a problem when it comes to his full-time career, especially some of the physical aspects of the game in ice hockey that can leave some marks.
But he sees it as being no different to anyone else, who enjoys physical exercise in their spare time.
He said: "Every now and again, something has happened where both careers have crossed paths, like if I've got into a fight in a game and I've come away with black eyes.
"I'll call my boss and told him I might not go in because of the black eye, but it's never been an issue.
"The way I see it, it's no difference than a regular employee who plays football and breaks their leg, so they have to take two and a half months off to recover. "
"I don't see it as a major exposure to the company and they've been very supportive.
"My hours have never been and issue and my performance reviews have never been an issue.
"With the flexibility and holidays that I have, it's never clashed and if it does, the owners at Dundee understand and they know I took the job on those pretences."
It's Hutchins' first coaching post with the Scottish side and he really found out how hectic it all was immediately prior to the start of the season as his team came together.
But with the season well under way, things have settled down now for the Toronto-born Stars coach, although his free time has effectively gone, he admits.
He explained: "Once the guys started arriving in the week or two before the start of the season, having the two posts got very consuming.
"I was sorting out apartments, bank accounts, cars, not to mention equipment issues as well so in the build-up to the season, things were really busy.
"Now it's calmed down and to be honest, being coach does not involve a whole lot of extra work.
"The main difference is instead of watching TV or movies, I'm watching game tapes or thinking about practice or doing scouting reports.
"All it does is take away more of my free time so basically, I don't have any anymore. I enjoy it and I'm just lucky I have the support from everybody that allows me to do what I enjoy."