Braehead Clan suffer losses to Steelers and Stingrays
By Craig Anderson
BBC Scotland
Last updated on .From the section Ice hockey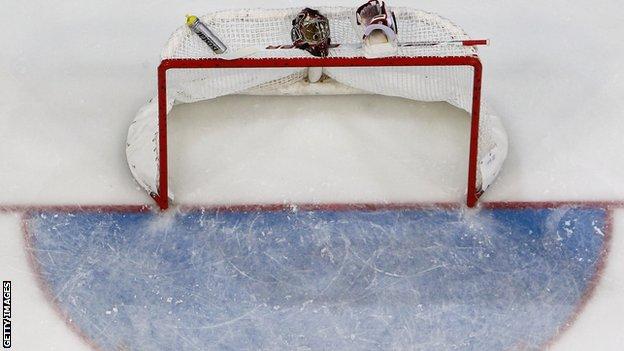 Braehead Clan player-coach Jordan Krestanovich has issued a "wake up" message to his players following another disappointing weekend.
His side lost 7-2 to Sheffield Steelers on Saturday, before going down 6-4 at Hull Stingrays on Sunday and appears to be a man at the end of his patience.
After Saturday's game, he fumed: "Our problem is we're making too many stupid mistakes and it seemed when that happened, they punished us for it.
"The score was not indicative of the play. The bottom line is we lost 7-2 because we made stupid mistakes and didn't battle for the puck.
"There are certain guys in there that have to wake up. If they don't, the writing is on the wall."
The Steelers' impressive win certainly wasn't reflective of the game itself, but it did sum up a frustrating night for the Renfrew team.
Tom Sestito grabbed the first, finishing Shawn Limpright's shot after Clan keeper Garrett Zemlak was lured from the crease.
Then Limpright added the visitors' second when they executed an identical move, with Steven Goertzen this time pulling Braehead's netminder away.
Both previous scorers assisted in helping Rod Sarich net Sheffield's third when his shot deflected off the Clan goalie and into the net before the first interval.
Jade Galbraith finished a rebound on the powerplay early in the second period to give the Clan hope of a comeback.
But that hope was extinguished all too quickly when Sestito delivered the killer blow, accepting Tyler Michel's pass from behind the net and flicked the puck into the roof of the net.
Colin Shields inflicted further misery by adding a fifth then Jeff Legue scored number six by rounding Zemlak and slotting the puck into the net.
Drew Miller pulled one back for the home side, slamming home from close range to reduce the arrears to four with eight minutes to go.
But Sestito clinched his hat-trick, with a little help from Zemlak when his tame shot sneaked under the Clan keeper to claim an impressive, if somewhat distorted result.
Steelers' veteran forward Ashley Tait admitted the luck went for his side and highlighted the impact of his goalie, John De Caro.
Tait said: "It was one of those nights where we got the bounces and Braehead didn't and where we went in at the first break 3-0 up, it could easily have been 3-3.
"Our keeper made some big saves for us and it's fair to say he kept us in it and with one or two saves, they were the difference."