Fife Flyers: Pitton brothers make their mark
By Craig Anderson
BBC Scotland
Last updated on .From the section Ice hockey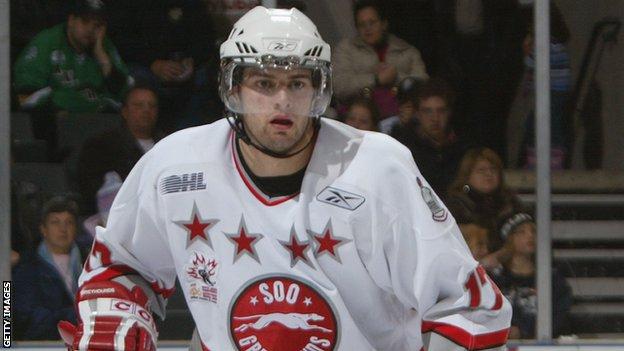 Some brothers can be the best of friends or the best of enemies. Fife Flyers have bagged themselves a couple of siblings that have made quite an impact this season.
Netminder Bryan Pitton signed for the Kirkcaldy club and was joined a week later by older brother, forward Jason, back in the summer.
Now they're both gunning to make the Flyers a force to be reckoned with as Todd Dutiaume's side look for a huge improvement on their bottom place finish last season.
But it isn't the first time these brothers have played together, having both turned out for Stockton Thunder in the ECHL and Springfield Falcons in the AHL during 2009/10 season.
Bryan insists that despite a parallel in their careers, there's never been any kind of sibling rivalry and they have always supported and encouraged each other as they've progressed.
He said: "I wouldn't say we're competitive with each other. Growing up, we played the same sports and were good at what we did. There wasn't too much competition.
"It's about getting better every day and we help each other by identifying things that have gone wrong and supporting each other.
"He knows my style as well and I have no problems telling him if he's had a bad game or if something's gone wrong. It's all about encouragement."
Both players have become fans' favourites for the Flyers this season, with Jason notching up 18 points in 20 appearances, including six goals, while Bryan has impressed at the other end.
Interestingly enough, the boys have never crossed sticks on the ice at any point and have never came up against each other.
Jason started playing at the age of eight and Bryan, a year later as the boys began to develop their skills as they set out on the road that ice hockey would take them.
But how did Bryan end up becoming a goaltender and Jason an offenceman?
Jason explained: "I'm not sure exactly how it became that Bryan ended up as a netminder and me as an offenceman. It seemed to be just how we played the game.
"When I played I always wanted to score goals and then when Bryan wanted to play, he told our parents he wasn't going to play hockey unless he was allowed to play in goal.
"Personally, I never fancied my chances of playing in goal and Bryan never came out of goal and we've been happy with that."
The move to Fife is Bryan's first foray outside North America into Europe after spending last season with Bakersfield Condors in the ECHL, playing 37 times for the club.
As for Jason, he played for Italian side Asiago after he opted to move away from North America and faced Sheffield Steelers in the IIHF Continental Cup last season.
His experience of leaving everything he knows behind will be invaluable for Bryan as he settles into life in Scotland.
"Our parents are happy we're getting that level of support from each other living in a foreign country," said Bryan.
"For us to be here makes it easier for them to accept the fact we are away, but we are together in doing so."
Jason added: "When I first came to Europe to play in Italy last year I didn't have that kind of support. It certainly makes the transition a lot smoother.
"Sadly for us, I don't think our parents will be coming over to see this year as Bryan gets married next summer so I think everyone will be saving money for that."
With both players now settled into life in Kirkcaldy, they've become heroes in the eyes of the fans and are hugely popular members of the team.
Bryan revealed how coach Dutiaume persuaded him to make the move to Fife and what he made of his first weeks playing in front of such a passionate support.
He said: "I just liked the idea of coming to a small town and have the community behind you on game nights. Todd told me it was a good hockey town and they really love the sport here.
"They would come and support you no matter what and their determination to do better this year stood out for me."