A late Drew Miller strike sees Braehead Clan beat Hull Stingrays
By Craig Anderson
BBC Scotland
Last updated on .From the section Ice hockey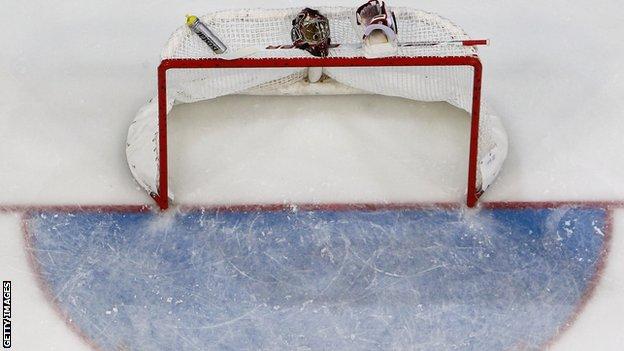 Drew Miller's last-gasp winner ended the week on a high for the Clan as they edged Hull in a closely fought Elite League battle.
The NHL star, who plays for Detroit Red Wings, made it four goals in two games over the Stingrays this week to give them a much-needed boost.
Jordan Krestanovich's men were down five players due to injury, including new face Martin Tuma, who broke a finger on his debut against Hull on Thursday.
But their win angered Stingrays coach Sylvain Cloutier, who felt the penalties against his team turned the game in Braehead's favour.
Clan were 1-0 up at the first break as Robert Farmer's pass from behind the net set up skipper Ash Goldie, who tapped the puck into the net from close range.
Then Jade Galbraith added a second during the middle period, accepting Brock McPherson's pass before dummying Ben Bowns and placing it in the goal.
Hull fought back not long after when Janis Ozolins' diagonal shot beat Garrett Zemlak then Jason Silverthorn bundled into the net to equalise.
A tense third period was soon played out as Goldie notched his second, flicking the puck over Bowns as the home side retook the lead early in the session.
But Jereme Tendler levelled again for Stingrays, sweeping in from the left and powering a shot low past Zemlak to make it 3-3.
Penalties to Martin Ondrej and Jason Silverthorn saw the visitors have to see out the game with Clan on a four-on-three powerplay advantage.
And they made it count when Miller popped up to make it count 34 seconds from the buzzer, finishing Galbraith's delivery and sealing two points for the home team.
Stingrays coach Sylvain Cloutier raged afterwards: "I didn't agree with the calls made. There was under two minutes to go in a 3-3 game and I felt we deserved better.
"I'm the kind of player that takes everything to heart and I was unhappy with some of the plays that went on, but we have to move on."
Braehead defenceman Sam Zajac heaped praise on team-mate Drew Miller and reckons he's been a great influence on the team.
He said: "Drew's been a massive presence on the team since he arrived. He's first out in practice and he helps us with new drills, even the goalies as well.
"He leads by example and his knowledge of the game is fantastic. His form this week shows why he's such a big player for us."
Elite Ice Hockey League
Thursday 29 November
Hull Stingrays 2-7 Braehead Clan
Saturday 1 December
Braehead Clan 4-3 Hull Stingrays Dundee Stars 3-4(ASO) Coventry Blaze
Sunday 2 December
Coventry Blaze 5-1 Braehead ClanDundee Stars 1-5 Nottingham PanthersEdinburgh Capitals 6-2 Hull Stingrays