Nottingham Panthers' fire impresses Corey Neilson
Last updated on .From the section Ice hockey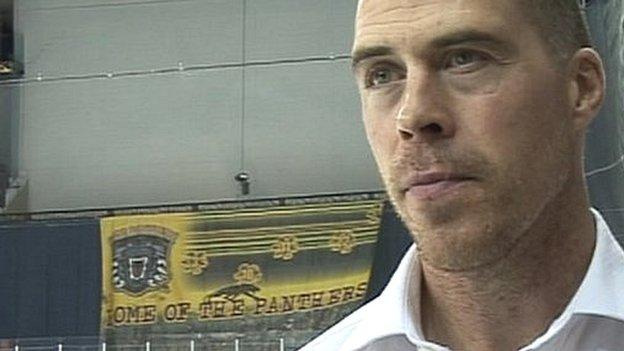 Nottingham Panthers player-coach Corey Neilson is confident his players have the "fire in their eyes" needed to win the Elite League title.
Panthers secured back-to-back weekend wins over Cardiff Devils and Hull Stingrays and are two points clear at the top of the table.
Neilson told BBC Radio Nottingham he has been impressed by what he has seen.
"Can we keep it up? By the fire I see in these guys eyes, it's entirely possible," he said.
Panthers, who earned a 3-2 shoot-out victory over Devils in Wales on Saturday, were made to work hard for their home win over Hull the following day - despite the emphatic 8-4 scoreline.
The hosts scored after just 29 seconds - but then found themselves 3-1 behind by the end of the first period. But Panthers responded in style to cruise to victory.
"We had a real tough game on Saturday," Neilson said. "We expended a lot of energy and then had eight hours plus on the bus and got home at three in the morning. It was a tough couple of days.
"We had a good early start but oddly that didn't help. We were maybe a bit over-confident that things would go our way and we shut off a little bit and they beat us on the break for two goals.
"The guys were upset with themselves but they really want this Championships and they got back down to business. We worked really hard in the second period, were real dominant, and that carried on in the third.
"It's satisfying to be at the top. We have been chasing for so long but we are finally in a position that I feel we have earned. We have been working hard and steadily improving."