Edinburgh Capitals downed by Cardiff Devils
By Craig Anderson
BBC Scotland
Last updated on .From the section Ice hockey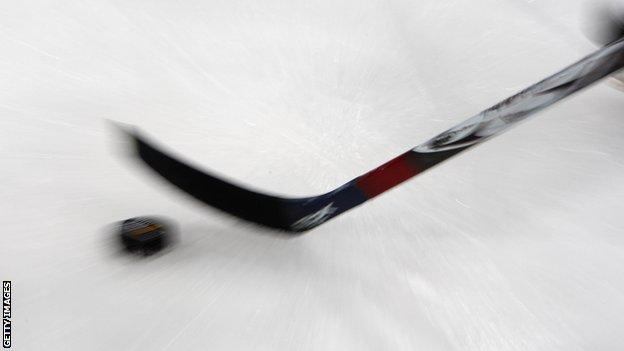 Mac Faulkner's hat-trick for Cardiff Devils ensured Edinburgh Capitals began 2013 on a low note.
After losing 2-0 to Dundee Stars on Saturday, the Caps fell apart for the first half against the Welsh side before a valiant attempt at a comeback.
They had taken 13 points out of a possible 18 in December, but the first period performance suggested they were going back to their old losing ways as Cardiff surged ahead.
Mark Richardson got Cardiff underway after Michal Dobron lost the puck just outside his own zone, allowing the Devils to capitalise as Richardson smashed in from the blue line.
Then Jesse Gimblett was in the right place at the right time to finish Cardiff's second, tucking in the rebound after Tomas Hiadlovsky in goal had saved from Mark Smith.
Gimblett almost took advantage of a sloppy Frazer Goldie pass to add a third while the Caps were changing their lines.
But the next goal wasn't long in coming, with Mac Faulkner smashing in from the inside right as the Edinburgh defence crumbled again in the face of pressure from the opponents.
Whatever Caps coach Richard Hartmann said in the interval worked as the Caps were much improved and at times, had Cardiff on the ropes as they began a comeback operation.
But Chris Blight's goal, fired just under the bar, was the trigger as Edinburgh went 4-0 down before the plan was implemented.
Marcis Zembergs streaked the puck across the crease for skipper Martin Cingel to finally pull one back for the home team.
Then Rene Jarolin set up Hartmann for the Capitals' second as they started to cause their Cardiff counterparts some concern.
However, Faulkner's finish from the right at an angle put the Devils 5-2 ahead before Curtis Leinweber slammed a third for Edinburgh to reduce the arrears to two again.
But Faulkner had a job to finish and he grabbed his hat-trick when he finished Adam Harding's pass across the Caps zone.
They even afforded the luxury of Ben Davies having a penalty shot saved by Hiadlovsky, but Gerad Adams' side were too strong in the end.
Capitals' Jade Portwood said afterwards: "There was a lack of communication from us and we were completely flat in the first period.
"There was a great feeling that we'd overcome our previous errors, so to come back and go back to those old ways so it's frustrating to see that again.
"It's frustrating as we seem to be making the same mistakes we were making before we went on that run last month.
"I'm just back from the team after a long spell out through injury, but watching from the stands I could see what was happening and that sixth goal for them killed it for us."