Drew Miller time at Braehead Clan is up
By Craig Anderson
BBC Scotland
Last updated on .From the section Ice hockey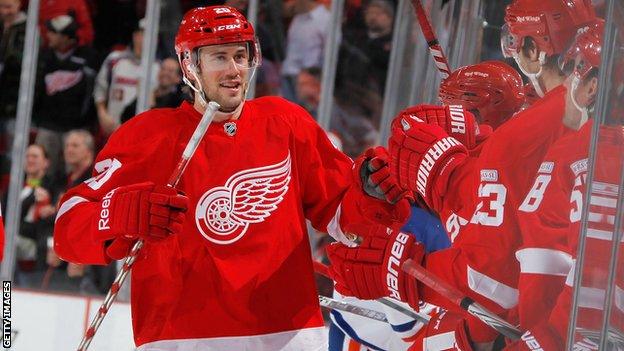 NHL star Drew Miller has not ruled out a return to the UK in the future after he completed his three-month spell at Braehead Clan.
The forward has returned to Detroit Red Wings with the strike affecting America's top league now, it appears, coming to an end.
But Miller has nothing but good things to say about his time in Scotland as he signed off on Saturday as Braehead were beaten 4-3 in overtime by Fife Flyers.
He said: "It's been a great experience on and off the ice, for me and Colleen, my wife as well. I've made a lot of friendships here and got to know the guys here on a personal level.
"It's only when the season is over and I'll realise just how good an experience it was. I'll also think about how much it's helped me when the season does start.
"I think it'll have been beneficial to have come here and played so long and the biggest thing I can take out of my time in Scotland is having the game mentality.
"Certainly if the opportunity came up again to play over here, I wouldn't cross it off the list and knowing my wife enjoyed it certainly makes a difference."
Miller arrived in October amidst a fanfare of press coverage and excitement as the Clan unveiled him as arguably their biggest ever signing in their short history.
He was one of five NHL players to come to the UK, seeking refuge from the ongoing dispute that has caused heavy disruption over the pond.
For a man who is considered a third line player, it was quite a difference from the sort of interest he was used to back in America.
While he admitted he was overwhelmed by it all at first, he learned to live with the expectation and pressure of being a star player at the Clan to concentrate on the job at hand.
He said: "When I first arrived, I didn't have that much expectation in terms of the press and the hype. I guess I should have thought more about it in hindsight. I didn't expect that at all.
"I wasn't thinking that way and after getting settled in the role, I was able to forget about those kinds of things and it was more about playing hard and working for the team night in night out.
"The fans at Braehead are great and they're behind us all the way. They stay till the end, even if matches haven't gone our way."
Miller leaves the Elite League with good stats after scoring 15 goals and assisting in another 15 in his 23-game spell.
"In the NHL, I play in a smaller rink at the Joe Louis Arena and it's very different to the Elite League," he explained.
"Obviously the players over there are world class players, guys like Henrik Zetterburg and other very highly skilled players.
"But the players in the UK work really hard and I was definitely impressed with the standard of this league.
"As the matches went on, for me, it got tougher and I believe the league will grow in the fullness of time.
"The fan base and following is getting bigger and players coming over from North America will continue to help this league and develop a reputation as a place to come for other players."
Miller's time in Scotland has certainly acted as a boost to Braehead Clan as fans embraced a player from the world's best league
And Kirsty Longmuir, the club's general manager, is sad to see him go, admitting his presence has helped the Clan's profile.
She said: "It's easy to forget that Drew Miller is an NHL player and the level of interest we've had as a result of him coming here from out with this country has been fantastic.
"Merchandise has been really popular, with Miller jerseys and signed photos and from the business side of things, it's been great.
"Also there's been increased media coverage and that's perhaps helped the crowds and the profile of the club.
"If it were to ever happen again, I would recommend getting an NHL player for any club if they can manage it and they would see the boost it gives them.
"But it's been a delight having him here and he's settled right in during his time, so he leaves with our best wishes and I wish him all the best for the future."