Braehead Clan head coach Paul Gardner ready to take charge
By Craig Anderson
BBC Scotland
Last updated on .From the section Ice hockey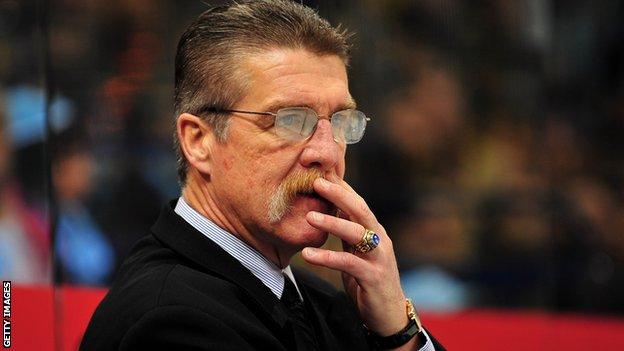 Braehead Clan's new head coach Paul Gardner admits he'll be nervous when he officially takes over against Hull Stingrays on Saturday.
The 56-year-old takes his place on the bench for the first time when Clan aim to start afresh with him in charge.
And Gardner also revealed he tried to persuade predecessor Jordan Krestanovich to stay and help the team.
"First of all I'm excited to be here and the challenge ahead is basically try and win some games," said Gardner.
"My first impressions are that we're obviously short staffed and that's a tough priority straight away in trying to fill the roster and compete along the way.
"I'll be nervous before the game and I don't think you can be a competitive person if you don't feel that way before a game.
"Once it gets started though it'll drift away, like a player.
"This is a new experience for me. In fact I was probably more nervous three or four days ago when the deal was done for me to come, but once I got here, I was a lot calmer."
Former player-head coach Krestanovich quit the club on Wednesday after learning of Gardner's recruitment.
Despite being asked to stay on, he opted to move rather than work with the new appointment.
"I had a long conversation with Jordan [Krestanovich] on Friday in the hope that I could persuade him to stay and work with me," said Gardner.
"He just didn't feel in his heart he could do that with the situation.
"As of now, he won't be staying on with us. When I originally signed, it was to work alongside him and help him with his coaching as well as assist the team.
"Sadly, it didn't work that way.
"Jordan is a quality player and he will be missed. He's decided to go another way so we'll move past that and continue on, starting this weekend."
Gardner arrives in the Elite League with an impressive CV, having played almost 450 games in the NHL as well as coaching in America's top league.
More recently, he coached in Russia and Germany and, in the last couple of years, was head coach of Mississippi Riverkings and Bloomington Blaze in the CHL.
He revealed that once the opportunity to work in the UK came up, he sought out as many people as he could to gain some background on the job and the country.
"I met some contacts back in North America and then I had a couple of long conversations with Mr Black," said Gardner.
"I also spoke with some people who had been in this league and it seemed like a good idea for myself and I'm in a good place in my career.
"Once it all got put together I was anxious to come."
Gardner met his players for the first time on Friday as he joined them in practice for the first time.
He knows full well what the situation is in terms of the roster and the job that needs done if Braehead are to make the impact on this season's campaign.
"They're a little down after losing some games lately as well as being short on numbers makes it difficult," said Gardner.
"From what I understand, they are a good bunch of people that stand behind us, so we've got to show them we're ready to work every night and I've told the players that.
"As I told the players, we're all in this together and we're together.
"It's not just what I say goes, it's the whole group. I include the fans in that as well."
After only a short amount of time in the Clan job, Gardner revealed he has already sounded out potential signings for the Purple Army, and is looking ahead to next season.
He said: "Once I knew I was coming, I spoke to some agents I know and set the ball rolling on potential signings.
"I've already spoken to a couple of players I've coached and seeing who's available.
"It's probably bad timing with the lockout ending in the NHL, but there's lots of movement in North America right now and everyone's waiting to see what happens.
"It'll be a process and it'll maybe take a few days or a couple of weeks, but we'll get some hard working guys in here."
And encouragingly, Gardner is looking at staying beyond this season.
"Kirsty (Longmuir), Mr Black and I have talked about next season already, although nothing's been signed," he said.
"It's my hope to stay beyond this season. I haven't just signed for three months then move on.
"It looks a place where a team could grow and I would like to be a big part of that for years to come."