Braehead Clan give head coach Paul Gardner debut win
By Craig Anderson
BBC Scotland
Last updated on .From the section Ice hockey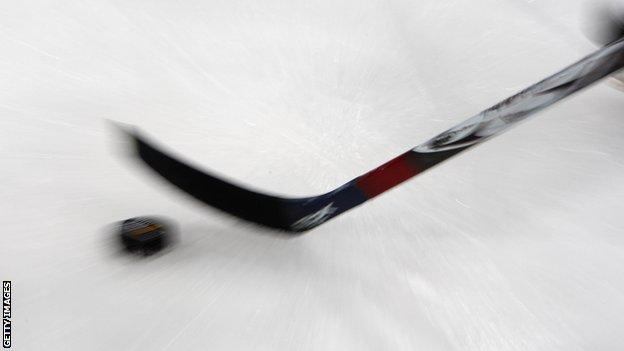 Steve Birnstill showed great composure to finish Braehead's penalty shot that clinched a debut win for new head coach Paul Gardner.
Such was the magnitude of the 2-1 victory against Hull, you could sense the relief as Braehead won their first home game in six attempts.
The old problem of having plenty of shots was still there to be seen, but when it mattered, Braehead pulled it together and this result could yet prove to be their biggest of the season.
Give credit to the visiting defence, though, particularly netminder Ben Bowns, who stood firm to stop Matt Hanson and Toms Hartmanis during the first period.
Braehead had more opportunities as did Hull, who really tested Daren Machesney with shots from Janis Ozolins and Jereme Tendler.
The visitors continued to test Machesney as Dimitri Rodin and Kurtis Dulle went close, with Braehead's goalie in top form.
However, both sides were resilient enough to go in at the second interval without conceding.
The Stingrays didn't take long in opening the scoring in the third period, when a Braehead move broke down in Hull's zone.
Tendler seized the opportunity and promptly skated up the left hand side and finished with a diagonal shot past Machesney.
Galbraith and Farmer went close and with Matt Hanson on the bench for a hooking call, Braehead's tired players mustered great resolve to kill another Hull penalty.
However, Hanson's return once his penalty expired couldn't have been timed better as Dave Nicoletti found him with a deadly pass.
Clan's D-man bore down on Bowns, hit the shot which crashed off the post, but Ash Goldie arrived at the back post and finished the rebound.
The five minutes of overtime still couldn't separate them and penalty shots were needed, with Birnstill stepping up to squeeze the puck beyond Bowns to clinch the points.
Gardner was pleased with his side's winning display. "We came out and showed great energy and I thought we should have had a couple of early goals. I was a little worried we wouldn't get something out of it," he said.
"Tiredness was creeping in the third period and the guys showed great heart. It's never easy to watch penalty shots though, but everybody did what they had to do."
Hull Stingrays coach Sylvain Cloutier said: "Losing on penalties has been the story of our season and that's been eight in the whole campaign where we've ended up defeated.
"It's pretty frustrating to lose that way, but with games in hand, we're still in control of our own destiny and we have to find a way of overcoming that."
Elite Ice Hockey League Results:
Saturday 19 January
Braehead Clan 2-1 Hull Stingrays
Cardiff Devils 4-5 Edinburgh Capitals
Fife Flyers 5-0 Dundee Stars
Sunday 20 January
Dundee Stars 6-5 Fife Flyers
Edinburgh 9-5 Hull Stingrays