Solway Sharks beat Billingham Stars lift Northern Cup
By Craig Anderson
BBC Scotland
Last updated on .From the section Ice hockey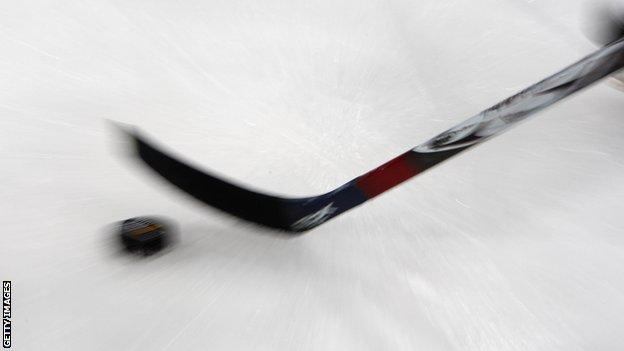 Solway Sharks blew Billingham Stars away in the second period as they stormed to win the Northern Cup on Saturday.
Martin Grubb's men secured the first silverware of the season, leaving their NIHL rivals stunned with a fine display in the first two periods that decided the destination of the cup.
It emphasised the quality they possess at this level against a team who have inflicted their only defeat on them in almost two years in the NIHL ranks.
But there was never any danger of the Stars - trailing 3-1 on aggregate going into this decider - getting close or making any real challenge to the Dumfries side,
Nathan Salem found the net first for the Sharks, slamming in a rebound after John Connolly's chance was stopped by the frame of the goal.
There should have been more, but any hopes or dreams Billingham had of turning the match around in their favour came crashing down in the first half of the second period.
Salem added a second early in the second period, finishing from close range before Connolly scored when his shot beat Stars' unlucky keeper Rich Griffiths.
Billingham couldn't recover and quickly found themselves four goals down on the night as Chalmers deftly finished his chance as the aggregate score became not so much a gulf, as a gaping chasm.
The visitors did get on the scoresheet when new Stars' man David Manning blasted the puck from the blue line through a ruck of players to close the four-goal gap, but it didn't last.
Reynolds' calmly-lifted effort landed behind Griffiths and into the Billingham net as Solway surged into a 5-1 lead.
James Moss and Wallace pulled further goals back for the Stars early on in the third period, but it did nothing in changing the complexion of the game.
Reynolds, though, put the icing on a well-deserved cake with a goal 20 seconds from the end as Solway were confirmed as Northern Cup winners for the second year in a row.
Solway Sharks coach Martin Grubb: "We're feeling pretty good about ourselves right now and all the hard work got done in the second period,
"Although we went to sleep in the third period and I was a little disappointed we couldn't see it through for the full 60 minutes.
"We knew we wanted to win the game outright rather than rely on the first leg score so it feels good to get our hands on the first trophy of the season.
Solway Sharks forwardAdam Reynolds: "It's great to score two goals in a cup final, but the main thing is we won the cup as a team and I take more pride in that over personal glory.
"We felt two goals was always a dodgy lead and we had to get the first goal to settle any nerves we may have had and we didn't look back from there."