Edinburgh Capitals defeat Braehead Clan 5-2
By Craig Anderson
BBC Scotland
Last updated on .From the section Ice hockey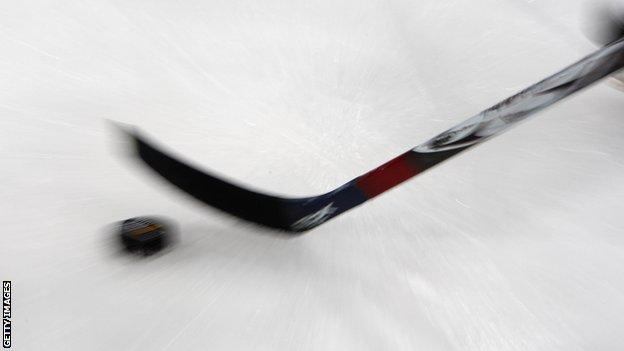 Edinburgh Capitals ended a four-game losing streak as they impressively beat Braehead Clan, whose honeymoon period under new coach Paul Gardner is now over.
After a 7-1 thrashing at the hands of Fife Flyers on Saturday, the Caps needed something to give their hopes of reaching the play-offs a timely boost.
And they got it, as they took advantage of their chances to hand Clan's newly appointed coach a winless weekend for the first time since arriving a fortnight ago.
Braehead came out the traps quickest in the opening minutes with Tomas Hiadlovsky in Edinburgh's goal in top form to deny Jordan Krestanovich and Matt Schepke.
But Capitals' player-coach Richard Hartmann led by example when his shot beat Clan goalie Daren Machesney to open the scoring on 16 minutes.
And, less than a minute later, Marcis Zembergs doubled the lead, finding a pocket of space to rifle his shot into the Braehead net.
The visitors found their way back into the game on the powerplay when Jade Galbraith found Steve Birnstill lurking around the blue line and the D-man blasted his shot past Hiadlovsky to make it 2-1.
The Caps remained resolute at the back, perhaps helped by Matt Hanson somehow putting the puck wide of an empty net, as they entered the third period a goal up.
And they were soon two ahead, as Martin Cingel's pass picked out Peter Holecko to finish with a one-timer past Braehead's netminder.
Then Hartmann grabbed his second of the night a minute later with a similar finish as Edinburgh fans celebrated a 4-1 scoreline.
Holecko could have added a fifth but the post denied the Slovak right-winger.
Braehead started to fight back, though, as Robert Farmer pulled another back and, suddenly, the visitors had a noticeable rise in tempo.
However, the home team stood firm and put the icing on the cake with 37 seconds to go as Jade Portwood scored into an empty net to seal a good night's work for the Capitals.
Even the skirmish between Edinburgh's Michal Benadik and new Clan defenceman Craig Cescon couldn't sour the mood of a happy Murrayfield contingent.
Afterwards Caps coach Richard Hartmann revealed he warned his team of the threat of Braehead under a new coach.
He said: "Under the new coach, Braehead have had some good results and I warned the guys to watch for that because a new face can bring a different dynamic.
"I'm proud of the boys for this result after the disappointment of the game on Saturday at Fife and we showed our confidence and ability in a game where we really needed to win."
Braehead coach Paul Gardner said: "It was very disappointing and I think we thought the game was easy in the first five or six minutes when we created great chances, but just didn't score.
"We were all over them then and we stopped working like we needed to and once we went behind it steam rolled and we couldn't get the momentum after that."