Three Scots are leading the British ice hockey charge
By Craig Anderson
BBC Scotland
Last updated on .From the section Ice hockey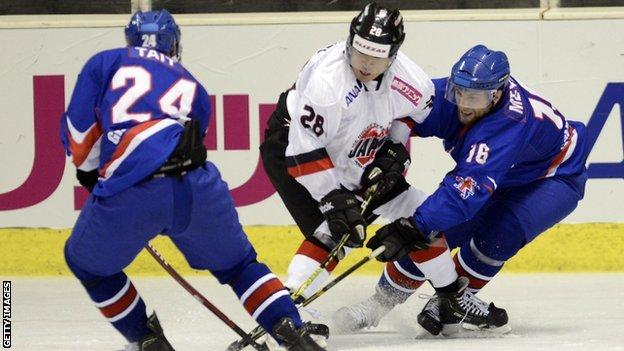 Great Britain's men's ice hockey team are heading for their biggest group of matches in over 60 years, with a place at next year's Winter Olympics in Sochi at stake.
Spearheading the British charge are a group of Scots who have tasted varying degrees of success and experience in club and international level.
Now, the biggest challenge of their careers await them when they travel to Latvia next week to play France, Kazakhstan and the hosts for a coveted place at the Olympics.
Head coach Tony Hand is the country's most-decorated ice hockey player, winning leagues and multiple awards and was drafted by NHL side Edmonton Oilers in 1986.
He even collected an MBE in 2004 for his services to the sport, but Hand admits this adventure is an exciting one for him.
He said: "It'll be a great experience and it's everyone's dream, not just as a player, but as a coach as well and it's something even I'm quite excited about.
"A lot of my achievements are at club level where I've enjoyed great success so this is something completely different. As far as my career itself goes, it's undoubtedly a highlight.
"We've haven't got this far in many a decade and to actually qualify would be incredible."
Joining Hand on the trip will be fellow countrymen Mark Garside and Colin Shields, who both play for Belfast Giants.
However, a late change to the squad saw netminder Stephen Murphy, also a Belfast Giant, have to pull out of the trip due to an ongoing groin injury.
Strangely enough, all three players lived in East Kilbride as children before their ice hockey careers took off.
Apart from those three, the only Scots-based player in the squad is Braehead Clan's Robert Farmer, originally from Nottingham.
Shields admits he's as proud as anyone to be donning the Great Britain shirt since first doing so in 2001 and wants the younger players to realise how big these matches actually are.
He said: "It's a huge step for me and for everyone involved and I'm always proud to represent my country at any time, whether it's World Championships or Olympic qualifiers.
"This, however, is a once in a lifetime opportunity and it's important experienced players like myself get the message across chances like these don't come around too often.
"Going there gives us a huge possibility to qualify. To get to the Winter Olympics would give everyone the experience of a lifetime."
Should the British side get past the higher-ranked teams they face in Riga, it would be the first time they've qualified for the Games themselves since 1948.
In fact, though, they were gold medallists in 1936 when the Games were hosted in Germany, overcoming traditional ice hockey powerhouses Canada and USA.
This generation of UK ice hockey talent come into these three matches after qualifying from the last stage when GB took on Japan, South Korea and Romania back in November.
But, as the progression goes on, the opposition becomes more difficult and Hand's men go into the trip very much as underdogs.
Mark Garside believes it's a tag that suits them, with expectation low, but he's also of the opinion that it will give the team a good indicator of how good they are.
Garside said: "The underdog thing doesn't bother us. To be fair, we're usually low-ranked anyway, even in the World Championship groups.
"It does help, because there won't be that much pressure on and it might relax us in how we play.
"It'll be a good indicator to see how good we are in against teams of that quality. We can't get too ahead of ourselves though. It's the old saying about taking it a game at a time.
"It's only if we actually qualify for the Winter Olympics will it become the stuff of dreams."
There's no doubting the task ahead for the GB side when they travel to Latvia next week, and coach Hand will need to call upon his most seasoned of campaigners.
With such a big prize at stake, the GB coach, who also coaches English Premier League side Manchester Phoenix, has opted for experience.
He explained: "One of the factors in choosing my squad was to go with more seasoned players.
"Facing teams like the ones we'll be up against requires guys that have been there and done it and I felt I couldn't go with too many young guys in a situation like this one for the first time.
"We looked for guys that won't freeze when they arrive on what will be a big stage for them when we go to Latvia.
"But we know it's going to be tough. There's no point in denying that, but we'll give it our all and hopefully we can be going to the Games in Russia at the end of it."