Braehead Clan lose to Nottingham Panthers 0-5
By Craig Anderson
BBC Scotland
Last updated on .From the section Ice hockey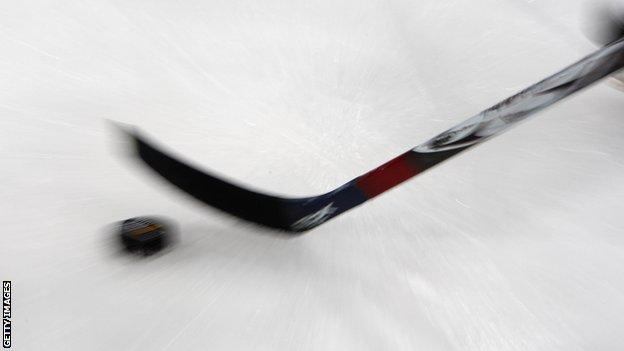 Braehead Clan coach Paul Gardner blasted some of his team as "passengers" after a dreadful 5-0 loss to Elite League leaders Nottingham Panthers on Saturday.
The performance was a far cry from Friday's overtime defeat to Coventry where Clan showed again what they are capable of.
But it all disappeared 24 hours later as the Panthers were allowed to plunder five goals without conceding, leaving Gardner seething afterwards.
He said: "Half the team felt the game was over before we even started and we didn't get the effort expected. Nottingham are a great team, but we had seven or eight passengers.
"I'm very, very disappointed in our guys. I told them to go out and work, but some guys just didn't work and that is unacceptable, especially after putting so much effort in on Friday.
"Maybe they looked at the standings and what Nottingham did to us last week, but we're paid to play every night. This time we didn't."
Brandon Benedict got the scoring underway when he tapped in from outside the crease after Bruce Graham's shot was initially stopped by Clan goalie Daren Machesney.
The visitors were dominant in the second period and got their just rewards as David Clarke set up David Ling, who blasted a one-timer into the Braehead net.
Clarke got himself on the scoresheet a couple of minutes later, when his shot, from a Matthew Myers pass, slipped under Machesney's body and Panthers were 3-0 up.
The home side thought they got themselves back into it when Robert Farmer seemed to put the puck in the net.
But referee Dean Smith chopped it off, claiming the Panthers' goal was off its moorings - a decision that enraged Gardner as he watched from the Clan bench.
Needless to say, it was a pivotal point in the game as Nottingham then surged into a 4-0 lead immediately prior to the second interval.
Ling found Bruce Graham with a low pass and his shot took a big deflection that looped over the helpless Machesney.
Then Graham's diagonal shot from inside-right left the Clan netminder well beaten as he added his second and Nottingham's fifth to seal a miserable night for the Braehead fans.
Even a fight between D-man Craig Cescon and Panthers' Guillaume Lepine failed to lift their spirits, despite Cescon getting the better of his opponent.
Afterwards, Braehead goalie Daren Machesney added: "Losing is never fun of course and it's frustrating, but we have to put it behind us and concentrate on the games to come.
"They outworked us in the game and while we could have had a bounce or there, but when you don't work, you don't get the rewards.