Challenge Cup final: Panthers hold advantage over Steelers
Last updated on .From the section Ice hockey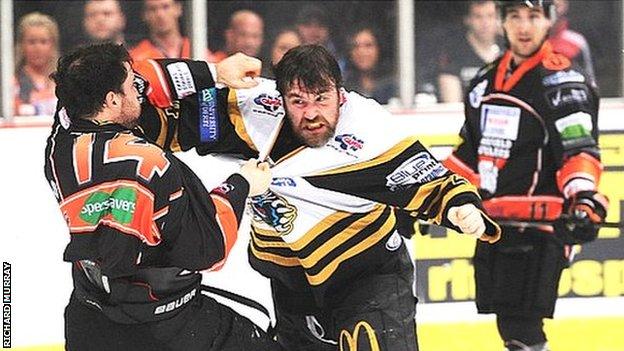 Nottingham Panthers hold the advantage over Sheffield Steelers following the first leg of the Challenge Cup final.
Robert Lachowicz netted twice and Bruce Graham and Jordan Fox also scored as Panthers won 4-1 in Sheffield, with Jeff Legue replying for the hosts.
"We played hard and executed our plays fairly well," Nottingham coach Corey Neilson told BBC Radio Nottingham.
"Everyone in the room was drained at the end and words were few," added Steelers coach Ryan Finnerty.
"The disappointment and frustration on their faces and mine told the story.
"We perhaps lost our way at the end but that was more out of trying so hard to get back into the game, then frustration took over.
"I felt for the guys. With what has been going on over the last day or so, I really felt from the bench that the guys were trying so hard and were really playing for me."
Panthers have won the Challenge Cup for the last three seasons and were crowned Elite League champions last Friday in Belfast.
Neilson added: "We have never minimised winning the Challenge Cup, regardless of winning the league championship.
"This is a huge, huge trophy and a huge honour to win and we are going to compete hard to try and win it again.
"I don't think we were as quite as sharp as normal, especially on our five on three powerplays.
"We scored some good goals, defended hard, and our netminder made some great saves."
The second leg takes place at Nottingham's National Ice Centre on Tuesday, 2 April.