Braehead are Scotland's best bet, says Dundee coach
By Craig Anderson
BBC Scotland
Last updated on .From the section Ice hockey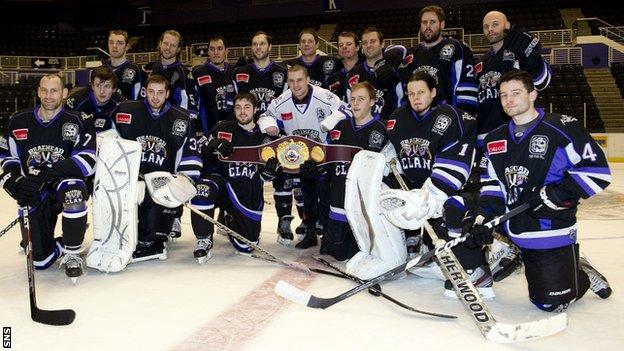 Dundee player-coach Jeff Hutchins believes Braehead Clan have the best chance of becoming the first ever Scottish team to reach the Elite League's play-off finals weekend.
Clan, Edinburgh Capitals and Fife Flyers all have tricky ties in the quarter-finals with a place in the final four in Nottingham a week later up for grabs.
And while the Stars man is a mere spectator this weekend, he's tipped Paul Gardner's side to fly the Tartan flag in the National Ice Centre on Saturday week.
Hutchins said: "I think Braehead Clan have the best chance of progressing past Cardiff Devils and in previous years, I would have gone with the Welsh side to go through.
"With all the injuries they've faced this season, Cardiff had a poor second half of the campaign and I think that's purely down to injuries.
"Edinburgh and Fife have tough tasks ahead of them playing against the two best teams in the league. For them, the key thing will be about how they do away from home.
"While both have decent home records, Edinburgh need to keep it close when they go to Belfast Giants and get the tie back to Murrayfield with something to play for.
"That being said, Fife start at home and they need to hope to go down to Nottingham Panthers with at least a two-goal lead and I think that would be their best opportunity."
Last Sunday saw the curtain come down on an extraordinary season where the four Scots clubs and Hull Stingrays battled it out for the Gardiner Conference and the play-offs.
And now Hutchins believes the three remaining Scottish sides have it in them to cause problems for the opposition.
He added: "You just need to look at the last time Nottingham played Fife and they beat them 10-2. Not many teams have gone there and inflicted that kind of beating on them.
"The play-offs are a different beast however and Fife's rink will be rocking on Saturday. No matter who you are coach of; that is not an easy place to play.
"But if they go into the second game all square or even in a losing position, they're going to have a tough time pulling it back.
"As for Edinburgh, the additions of Patry and Leinweber have made such a difference to them this season. They could easily have been in the bottom two, looking at their form prior to that.
"They were headed in the wrong direction and the addition of Leinweber solidified their first line and allowed other players to move position and balance out their forward line.
"Braehead got there and I believe they will reach the final four. They lost their last game, but they went into it with three wins and on a high and came back from 3-1 down twice against us."
Dundee Stars that were the odd one out after winning just three of their final 15 regular season games, including a run of ten without a win away from home.
Hutchins is back on board for next season despite the disappointment of missing out on the play-offs.
But he admitted he felt for the fans more on the back of what happened last weekend and has vowed to make amends next season.
He said: "The most frustrating part for me looking back is our home form in the last few weeks, particularly the last away game at Braehead when we were 3-1 up.
"If we finished that out, that would have won us the Conference. To lose the Conference was disappointing, but to be out of the play-offs as well hurt really badly.
"So much so, we had a fans' player of the year night earlier in the week and I felt sick to my stomach as I felt like I'd let them down.
"But I told them I'd learned a lot from this season and said I'd make sure it wouldn't happen again."