Elite League play-offs: Nottingham look to win treble
Last updated on .From the section Ice hockey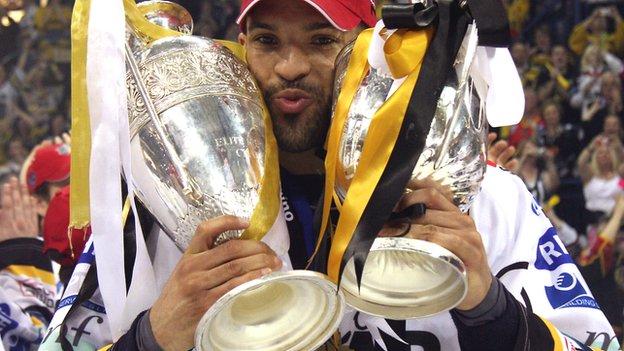 The Elite League season reaches its climax this weekend with the play-off finals at the National Ice Centre in Nottingham.
And a Coventry Blaze side hoping to give departing coach Paul Thompson the ultimate send-off meet Belfast Giants in the second semi-final [17:00 BST].
BBC Sport's Owen Bradley takes a look at the four teams hoping to emerge victorious in the sport's end-of-season showpiece.
NOTTINGHAM PANTHERS
Form and prospects: There's some debate whether a Panthers victory this weekend would be a true Grand Slam, following their failure to take home the Erhardt Conference title, but a third trophy of the campaign would put Nottingham's status as the top dogs this season firmly beyond doubt.
Their recent record under coach Corey Neilson is outstanding. The defending champions have just this week won their fourth consecutive Challenge Cup trophy, and are gunning for a third straight play-off victory, not to mention winning the Elite League title for the first time in 57 years.
Fatigue could well be Nottingham's biggest challenge. They rightly toasted their achievements in the regular season, before grinding out an aggregate victory in the Challenge Cup final second leg on Tuesday. They have fresh legs waiting in the wings in the form of David-Alexandre Beauregard, and should have the right mix of youth and enthusiasm to carry them to the final - at least.
Key player: David Ling. The 38-year-old led the league in scoring and is expected to sweep the board in the end-of-season awards. His ability to create and torment opponents has made the difference in the regular season, and could well do so this weekend too.
Coach Corey Neilson's view: "I am very honoured to have led Panthers to that league title, but the players want more success. They are a committed group of guys and I love their attitude. We have seen how good Cardiff are time and time again. They came through against a talented Braehead side in the quarter-finals and did it with key players out. They thrive at play-off-time and have reached the final for the last three years."
CARDIFF DEVILS
Form and prospects: Cardiff maintained their remarkable record of reaching every Elite League play-off finals weekend by overturning a 7-5 first leg deficit to beat Braehead Clan in the quarter-finals. It was a result that should have been expected - despite the Clan's higher seeding, Cardiff own the better regular season record, and the Devils lived up to their billing with a 12-9 aggregate victory.
Their final four appearance is another feather in the cap of coach Gerad Adams, who has seen his side decimated by injury to key players, including leading import Mac Faulkner and key Brit Phil Hill.
The Devils have finished as runners up for the last three years, including to their semi-final opponents Nottingham in the last two years. This is yet another chance for Devils redemption.
Key player: Chris Whitley. The Devils netminder has struggled between the pipes since arriving in Wales in January. His save percentage of 88.2 is the worst in the Elite League, and he has won just four of his 20 starts. Cardiff will need better from their goalie if they are to make it past Nottingham.
Coach Gerad Adams' view: "I am so proud of this team. Once again a Cardiff team has found a way when things were against them. When we lost key players while playing an import short, the guys could have dropped their heads but didn't. We suffered more injuries but no-one complained. As ever, our fans will turn out in numbers and do us proud and I hope we do them proud. Nottingham are tough, tough opponents. They are a fantastic side."
BELFAST GIANTS
Form and prospects: The Giants are undoubtedly still smarting from having the Elite League title wrestled from them by new champions Nottingham in front of their own fans last month. Coach Doug Christiansen will rightly point to the Erhardt Conference title as a sign of his side's quality, and perhaps the team could have retained their title were it not for a host of injuries.
Last season's semi-final overtime upset at the hands of Cardiff will no doubt still be fresh in the memory too, with the Giants keen not to follow in Sheffield's footsteps against Coventry on Saturday evening. Belfast undoubtedly have the ability to end the season with victory, with experienced performers including Robby Sandrock on the blue line.
Christiansen does have a potentially difficult decision to make in the net. Garrett Zemlak was a more than capable replacement for established starter Stephen Murphy when the latter went down with injury during the season. With Murphy looking nervy at times over recent weeks, Christiansen could go for Zemlak. That decision would leave him short of import skaters. It's a call no other final-four coach will have to make.
Key player: Adam Keefe. The Giants captain may only have registered 22 points in the regular season, but he can set the tone physically for his Belfast team-mates.
Coach Doug Christiansen's view: "Coventry are a team that has outstanding offensive players who compete every night. They are physical, tough and skate well. Our strength is being a team. We do not have one dominant player. We have an outstanding group of people on our team and they have stuck together through thick and thin. There is something special about the play-off weekend and it extends far beyond the games."
COVENTRY BLAZE
Form and prospects: Undoubtedly the neutrals' pick for the title. It would be a fairytale if out-going coach Paul Thompson were able to guide Coventry to the title in his final game in charge.
The Blaze pulled off the only true upset of the quarter-finals with their overtime victory over Sheffield Steelers. The fifth seeds finished 19 points behind Sheffield in the regular season, but effectively cost Steelers coach Ryan Finnerty his job when Shea Guthrie fired home to send Coventry into the final four.
Energised by the emotion of Thompson, Coventry certainly have the tools to win in Nottingham. Netminder Peter Hirsch finished second in the rankings, and has the ability to steal a game if he is allowed to settle.
Key player: Shea Guthrie. He probably would have led the Blaze in scoring if injury had not forced him to miss 10 games. He showed his quality in the play-off quarter-final second leg, bagging a hat-trick that included the game-winning goal. It could take a similar individual display for Thompson to go out on top.
Coach Paul Thompson's view: "We have had an amazing battle this season and it is tribute to everyone's determination we are in the final four. Everyone in Coventry should be proud. They showed spirit and courage and it has been rewarded. Belfast are a fantastic side and pushed Panthers all the way for the league title. But we have had success against Giants this season, so know what it takes to beat them. Finals weekend is something every player should relish and I know my guys will."