Coach Doug Christiansen proud of beaten Belfast Giants
Last updated on .From the section Ice hockey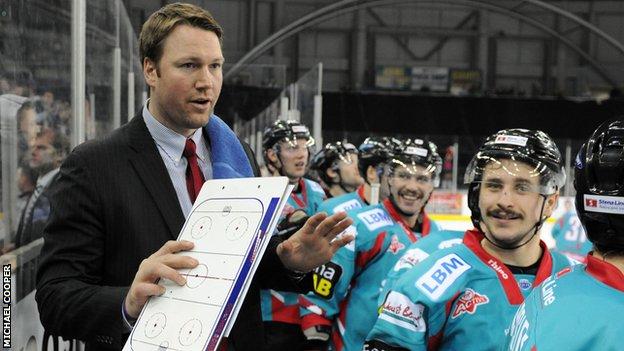 Belfast Giants coach Doug Christiansen paid tribute to his players after their 3-2 overtime defeat by Nottingham in the Elite League play-off final.
Belfast trailed 2-0 but hit back to level in the third period, only to lose to Jordan Fox's extra-period goal.
"I am a proud coach," Christiansen said. "I am so proud of this team. They have stuck together.
"But hockey is a cruel mistress. You win and lose some in overtime but I am so unbelievably proud of them."
He added: "Nottingham are a great team. They won the treble. They are an outstanding, well-coached team and they are clinical.
"We scored two big goals tonight. The penalty kills gave up three but their powerplay is really good and you cannot make kill after kill after kill.
"But today is not about the powerplay, it is about the effort the players put in."