Braehead coach praises side's response to defeat
By Craig Anderson
BBC Scotland
Last updated on .From the section Ice hockey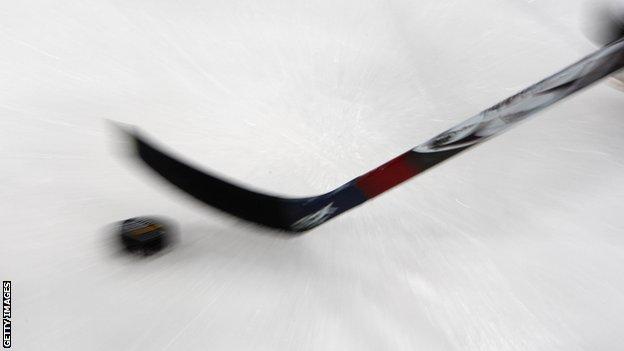 Ryan Finnerty was delighted with his Braehead side's response to the defeat at Belfast Giants as they won at Sheffield Steelers.
The Glasgow side were floored in Northern Ireland on Saturday as Belfast's Chris Higgins nabbed a winner six seconds from time as Clan went down 5-4.
But they galvanised to beat the Steelers on penalty shots.
"We put up a great fight in Belfast, but for a young team, we responded well after the way we lost the game," Finnerty said.
"The guys have risen to the challenge of going to tough places like Cardiff, Belfast and Sheffield and have come away with four points.
"It feels good to get the win in Sheffield and after only four hours back in Braehead then back on the bus, I was concerned the travelling would be a factor.
"I think we're getting stronger and stronger and the guys are responding and becoming a team. Two weeks ago they were strangers and you can see they are gelling now."
Scoring goals is certainly not an issue, as scoring four in Belfast and Sheffield on consecutive night is a feat not many teams achieve.
Keeping them out at the other end is where some work is needed, but there are signs of improvement.
Glasgow-born Colin Shields made a huge difference to Belfast Giants as he notched a hat-trick, helping the Irish side to a slender 5-4 win.
Ed McGrane's double had them leading 4-3 going into the final minutes, but Shields's third and Higgins' inflicted a crushing defeat.
For Finnerty, his return to his old stomping ground, Sheffield Steelers, for the first time since they dismissed him back in April would have been made sweeter by the outcome.
Once again, Braehead led, with Scott Aarssen, Shane Lust (two) and Ray Macias all scoring and found themselves pegged back. This time they held on for overtime.
Ultimately penalty shots decided and with Steelers denied by netminder Kyle Jones, Ed McGrane and Ash Goldie took advantage to get the points.
Dundee Stars continue to be the form team of the Elite League with a further two wins from three this weekend.
Friday's 5-3 loss to Belfast was the first time they tasted defeat this season, but there was certainly no hangover for Jeff Hutchins's side.
Cardiff Devils were on the wrong end of a 7-0 demolition in Dundee on Saturday night, with six men in Stars colours all finding their way on the scoresheet.
Brock McPherson, Billy Bagron, Nico Sacchetti (two), Jerry Pollastrone, Nikita Kashirsky and Lewis McIntosh all put the Devils to the sword in an impressive win.
Then to prove it was no fluke, they put three unanswered goals past Edinburgh Capitals on Sunday to keep their record going.
They made hard work of it, but another Sacchetti double and one from Rory Rawlyk sunk the Capitals.
As for Edinburgh, Sunday's loss to their Scottish rivals would have left them deflated, especially after picking up their first win of the season at Hull the day before.
Curtis Leinweber scored twice along with Tomas Horna, Martin Cingel and player-coach Richard Hartmann as the Caps beat the Stingrays 5-3.
Fife Flyers only had the one game and for the second Saturday in a row were undone by penalty shots. This time it was Coventry Blaze who left Kirkcaldy victorious.
Steven Gunn's first period goal for Todd Dutiaume's men went unanswered until late in the third period when Michael Henrich equalised for the Blaze.
And it was Henrich's penalty shot that proved decisive as Bobby Chaumont was denied, leaving the Flyers still looking for their first league win.
Results:
Friday
Belfast Giants 5 Dundee Stars 3
Saturday
Belfast Giants 5 Braehead Clan 4
Dundee Stars 7 Cardiff Devils 0
Fife Flyers 1 Coventry Blaze 2 (PS)
Hull Stingrays 3 Edinburgh Capitals 5
Sunday
Edinburgh Capitals 0 Dundee Stars 3
Sheffield Steelers 4 Braehead Clan 5 (PS)