Craig Peacock returns to Belfast Giants from Fredrikshavn
Last updated on .From the section Ice hockey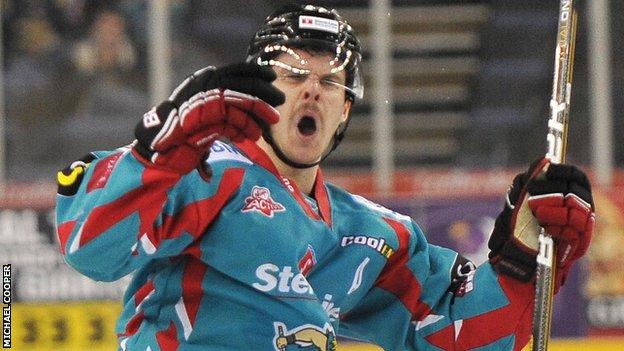 Craig Peacock has returned to the Belfast Giants from Danish club Fredrikshavn and will line up against Sheffield Steelers and Coventry Blaze in the Elite League this weekend.
The 25-year-old Great Britain forward spent four seasons with the Giants before signing for Fredrikshavn in May.
During his years in Belfast, Peacock won the Elite League title in 2012 and the play-off championship in 2010.
He currently sits fourth in the Giants' all-time leading points scoring charts.
Peacock, who became a firm fans' favourite during his stay in Northern Ireland, scored 225 points in 239 games played.
He arrived in the province with an impressive CV, scoring 94 points in 48 games for the Peterborough Phantoms during the 2008-09 season.
Belfast Giants General Manager Todd Kelman, who was instrumental in bringing Craig Peacock to Belfast in 2009, spoke of his delight at his return:
"We signed Craig when he was just a kid and he has grown into one of the top British players in this league. We are excited to get him back in Belfast where he belongs and we hope to have him here for a long time.
"He is a natural scorer and has been a part of some big moments in Giants history playing a key role on both Championship teams he has been a part of. I know our fans will be pleased to have him back in Belfast and I know he is excited to be coming back here.
"We have been hit with some injury trouble and getting everything signed for Craig to be in the line-up this weekend is key for us as we go up against two of the top teams in the league in Sheffield and Coventry."