Nottingham Panthers: Continental Cup opponents changed
Last updated on .From the section Ice hockey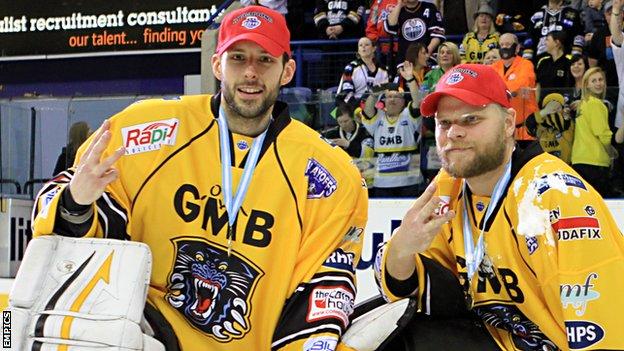 Nottingham Panthers will face new opponents for this weekend's second round of the Continental Cup.
Spanish side Bipolo Vitoria-Gasteiz will replace Tallinn, who are unable to take part because of visa problems.
Vitoria-Gasteiz will join the Panthers, The Hague (Netherlands) and Riga (Latvia) in the four-team tournament.
"IHUK are very grateful for Vitoria-Gasteiz stepping in and I know the Panthers are too," said Ice Hockey UK general secretary Andy French.
"Once it became apparent that there was a problem with Tallinn, it was a remarkable few days.
"I lost count of the number of calls between myself, the IIHF (International Ice Hockey Federation), Gary Moran (Panthers general manager) and various other organisations and the teams involved."
The tournament, which runs from Friday until Sunday at the National Ice Centre in Nottingham, is one of European ice hockey's most prestigious competitions.
Vitoria-Gasteiz, who finished second to Tallinn in last month's first round, were only founded in 2012, but won their first national league title this year.