Cardiff Devils: Gerad Adams stops playing and Phil Hill released
Last updated on .From the section Wales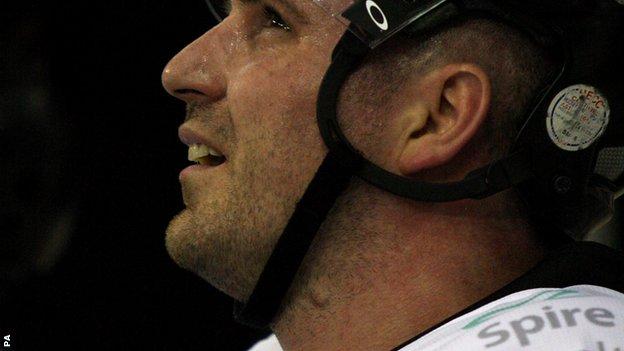 Cardiff Devils player-coach Gerad Adams has retired as a player with immediate effect to concentrate fully on being head coach.
Adams will work alongside managing director Brent Pope on an interim basis and he said: "We think it's a really good plan."
"Things haven't been clicking for us and we couldn't put a finger on it," Adams told BBC Radio Wales.
"There needed to be a little shake-up and this is what we came up with."
"When you know what the problem is you can go and correct it but we haven't been able to know what it is - it's just through a lack of confidence in the players and it's one thing you can't just bottle up and feed them.
"We are going to bring in a player who is better than I am and I can fully accept that.
"I've always wanted to fully concentrate on the coaching so I'm really excited about the opportunity to do just that. To get a new face in and kind of upgrade it from the back end will be a big asset for us so it was a move that made sense."
The club have released Great Britain international winger Phil Hill following the side's inconsistent start to the season.
"It was again just a little bit of a shake-up just to get our team a different look and bringing a new import in, there had to be space created and again that was the decision that was made," Adams said,.
"I think it's a little bit on everybody - myself and the players should feel a little bit of that hit of Phil having to go.
"Everybody could have been better - if we are winning hockey games we are not talking about this right now and he's still here."
The Devils are currently seventh in the 10-team Elite League table with three wins and five defeats from their eight matches.