Nottingham Panthers: Boss Neilson praises veteran in vital win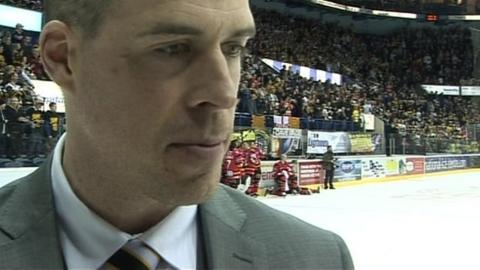 Nottingham Panthers coach Corey Neilson heaped praise on veteran defender Jonathan Weaver for helping secure a Continental Cup semi-final place.
The 36-year-old got extra ice time in Sunday's 3-1 win over Junior Riga after Brent Henley was forced off injured.
Victory for either side would have secured a berth in the third round of the competition in Italy next month.
"Jon is a young dinosaur out there and had an outstanding game," Neilson told BBC Radio Nottingham.
"It was like his old Coventry days when he was out there forever."
Nottingham also lost key players Bob Wren and Matt Ryan for fighting after Henley was sidelined in the opening period.
But goals from Matt Francis, David Clarke and Leigh Salters was enough to overcome the highly-rated Latvians.
The Panthers qualified for the competition as Elite League champions and hosted the second round at the National Ice Centre over three days.
They beat Bipolo Vitoria-Gasteiz of Spain 5-3 and The Hague from Holland 7-3, before getting the better of Riga to extend their run in one of European hockey's most prestigious competitions.
"It was a tough three days with three very different games which we are not accustomed to," Neilson said.